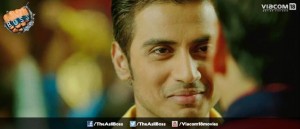 With his debut role in Shaitan, young actor Shiv Pandit certainly impressed with his performance in the dramatic film and was nominated for several awards. The industry had taken notice and then Akshay Kumar came calling and cast him in Boss. In the film, Shiv plays Akshay Kumar's brother but also has the romantic hero line romancing the lovely Aditi Rao Hydari. We chatted with the actor about being on his first big masala film, what it's like to work with Akshay and more. Check it out!
Tell us how you landed the role in Boss.
I landed the role because I got a call from my producer, who had my earlier film Shaitaan, and he had liked it and he called me to his office and made me meet Mr. Akshay Kumar and then the two of them offered me the film.
So how was that first meeting with THE Akshay Kumar?
It was little bit of an unnerving experience because I didn't really expect to meet him there but you know I soon got clued into the fact that with the role that it was that I was probably going to hang out with him a little more often than I thought I would. It was really cool meeting him ya.
Who is your character and how does he fit into the plot of the movie?
My character is a 22-23 year old guy who basically is a very morally upright person who doesn't really stand for injustice being done to anybody. He really respects his father and brother. He has a romantic friend who is played by Aditi Rao Hydari in the film and their pairing gives rise to a lot of conflict and when these conflicts arise my elder brother BOSS and me go about dissolving them. That is pretty much the story.
How did you prepare for this character?
I didn't really prepare as such because they just wanted me to show my softer side. Also they wanted me to look a little lean and shed a lot of muscle – they didn't want me to look bulky. However, it's a new feeling for me to be a part of a big setup like this so I really just went with the flow of what my director wanted and I did that.
Tell us about working with the director Anthony D'Souza.
He's a pretty cool guy. He's very technically sound. He always thinks of very large and broad canvas. I think he is somebody who will really knock-the-socks of the people after they see this film. He has worked very hard on it so I hope it does really well for him.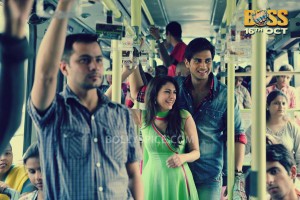 This is a larger project for you so, your First day on set… your first thought…
My first day on set was with Aditi, so it was pretty chilled out. We were shooting sequence from our film from the song 'Har Kisiko Nahi Milta' that is a romantic song picturised on us, so we were shooting that. It was pretty chilled out. It was a new feeling, but it felt like I was part of a new project and I am happy to be part of it.
How did the shoot go with Aditi?
There has to be a connect between the two people involved. If there isn't then it will be just plain and kind of pretending – you have to connect. You have to spend some time to get to know each other. And, I think, you have to be open as a person to accept and to give. You have to have an inflow and an outflow in terms of emotions. And that comes, I guess, when there are no barriers between the two. That comes with people when you laugh together, joke, and being in each other's presence and having a happy energy around themselves. So I found with Aditi very easily – that connect. So hopefully when people see the song they might believe our romance.
Then what about acting with and being on set with Akshay Kumar?
It was very cool. He's a really cool guy. Really nice. He's very young at heart. I like the fact that he's so chilled out and there are no airs about him and he never enforced his huge stature on me in any way. He was just somebody he became a friend to me more than a co-star or a colleague – he really became a friend to me. I really admire the way he worked really hard and gone where he is. I am really very lucky to have got this opportunity and I can't thank him I mean he's the one person who is responsible for it.
Did you learn anything from him as an actor?
There are two qualities of him that I'd like to pick up, not that I am lacking those, his professionalism and the give and take. He's very humble and down to earth as a person that's why people love him so much because there is a certain approachability to him that people adore and admire even today. And he is extremely professional. I would say he's a producer and director's dream, you know he doesn't waste people's money and at the end of the day he finishes works on time, he reaches on time. There is a certain discipline to his craft which he attacks with which is commendable.
I believe you also have scenes with Ronit Roy. How was it to work with him and play against the bad guy?
He was great. He was fantastic to work with because Ronit is again a thorough professional. All these guys have been working for many, many years more than me and it was just great to be amidst such experience. Hopefully some of it has rubbed off on me the right way.
Favourite scene in the movie?
My favourite scene would be the first day I faced the camera with Akshay Kumar for the song called 'Hum Na Tode Phode' that was a very special moment for me because it made me realize this is pretty big film and I am a part of a superstar's film. So for a young actor like me that is a huge thrill.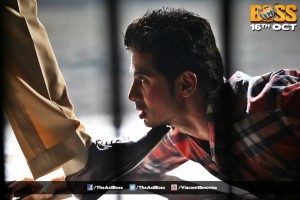 Looking back over the whole experience of shooting the film, what would you say?
I say bring it on. Bring more on! Hopefully this film has a positive result. I would like to do many more such films. At the end of the day I am trying to prove myself and make a name for myself and the way to do that is to be confident, not be scared and go about your work in an honest and hardworking way.
It seems to me this is an action/romance little bit of everything film. How would you describe it?
I would describe it as a complete wholesome family entertainer with something for everyone in the family. There's action, drama, comedy, romance. It is something for the entire family to go out and enjoy.
So what's next for you?
Akshay Kumar has signed me for three films – so he's producing 2 more films for me after this one. So as of now those are confirmed. There are couple of other things happening which I can't talk about right now. I am pretty sure we will talk about it when the time is right.
Boss hits theaters worldwide today! Be sure to check out our interviews with Ronit Roy and Aditi Rao Hydari too!