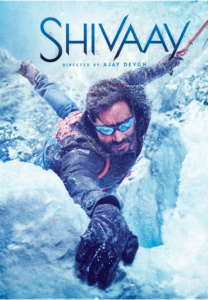 Ajay Devgn is ready to bring the action and drama and some incredible shots and locations in his upcoming film Shivaay. The actor not only stars in the film, but he also directed the epic, which hits theaters this Friday, October 28th. Joining him on the adventure that is Shivaay are two international actresses new to the world of Hindi cinema Erika Kaar and Abigail Eames. Also in the cast are Sayyeshaa, Vir Das, Girish Karnad, and Saurabh Shukl.
Though the trailers have given us glimpses we don't truly know what Shivaay is truly about. All we have been told is that it is the story of an extraordinary man in an extra ordinary circumstance. Shivaay, a Himalayan mountaineer is an innocent everyman, who is capable of transforming into a mean destroyer when he needs to protect his family. We will find out more this Friday!
The music for the film was composed by the great Mithoon ('Tum Hi Ho' from Aashiqui 2 and so many more), with one track by Jasleen Royal. A short OST with only five tracks, it features amazing singers like Mohit Chauhan, Sukhwinder Singh, Badshah, Arijit Singh, Sunidhi Chauhan, Kailash Kher and Jasleen Royal. I really had no idea what to expect from the music of Shivaay. So did I add the songs to my playlists? Read on!
First up is the Mithoon composed Bolo Har Har Har. It begins with a gorgeous almost a capella vocal by Mohit Chauhan that has such deep soul. He is Absolutely Brilliant. The song then becomes something completely different that has a cool innovative flavor full of edgy beats and hard-hitting power. Also heard on the energetic track are Mithoon along, Sukhwinder Singh, Badshah, Megha Sriram Dalton and Anugrah all who are fabulous. The track has so many sides from an interesting mix of vocalists, to new sounds, to genres including dance, rap, trance, rock, chant, and even more. You would think that it was all too much but you know what it works and I wanted to hear it again and again. Each part is individual but at the same time connected. The incredible video also proves that. Talking about the track and the video choreographer Longinus told us, "'Bolo Har Har Har' fits in perfectly in the world of Shivaay. Anything seen as evil must be destroyed. In today's world many things go unnoticed with the naked eye but cannot escape the third eye." After hearing this song we certainly cannot wait to see Shivaay unfold on October 28th!
The love song Darkhaast is another brilliant track. I am in music heaven whenever I hear Sunidhi Chauhan sing – seriously she is just perfect. Arijit Singh is fabulous on this track as well. He has more of a raspy voice in parts and it is something I really want to hear more from him. He then lets go and lets it all out, and it is so good. Musically it starts as a lovely ballad but then Mithoon takes it more to a rock space, which elevates the song to something more. A cool thing was that they kept the ballad flavor to their vocals even with the when the guitars were wailing and the drums were banging the rock beat and that made such a cool mix. I love the soft, I loved the hard, I loved the mix. The music is brilliant but it is the performance by the singers that make the song – they are superb!
I love a simple guitar line and a brilliant voice and that is showcased in Raatein, which was composed and sung by Jasleen Royal. Jasleen Royal is a singer we have heard on Khoobsurat's 'Pret' as well as in Baar Baar Dekho's 'Kho Gaye Hum Kahan' and 'Nachde Ne Saare'. She has such a sweet tone to her voice that you want to hear again and again. I loved the music and especially that as it played it added layers to the acoustic guitar, then another and then even more to create a full song. It is simple in essence but it is brilliant. This one is definitely on my favorite playlist. This is another great track on the Shivaay album.
There is also a reprise version that stars out with an a capella section by Royal, which is terrific. This one has more of sad, mysterious, haunting feel to the music. She completely changed the song and if I had not heard the first one, I would never, ever think that these are the same songs. This one in its own right is outstanding. For me, I almost feel this one more and like it better. This one was added to the best playlist. Her vocals are so good too! She is someone to watch out for as a composer!
We are back to Mithoon's musical world of Shivaay with Tere Naal Ishqa. Another song that seems to be full of feeling and yearning this track features the amazing Kailash Kher. I love when he sings the slower songs, he puts everything into his performance and you feel every line and every note. Light music begins the track and then Mithoon brings in a simple percussion, and then a rock-ish guitar, and an acoustic guitar in parts but it never is the body that is needed to support his performance. Overall the musical composition lets him down. I wish the music matched the heart he gives to the lyrics. There is a disconnect and it makes a song that could be a show stopper just a nice track. But seriously Bravo Kailash Kher!
I was pleasantly surprised at the great music of Shivaay. It was not what I expected, especially with what we have seen in the posters and trailers, but it is a musically diverse and excellent set of songs that I thoroughly enjoyed listening too. I look forward to seeing these in the world of Shivaay! And yes I did add 'Bolo Har Har Har', 'Daarkhaast' and 'Raatien' and the 'reprise version' of to many of my playlists.
Shivaay is in theaters on October 28th!