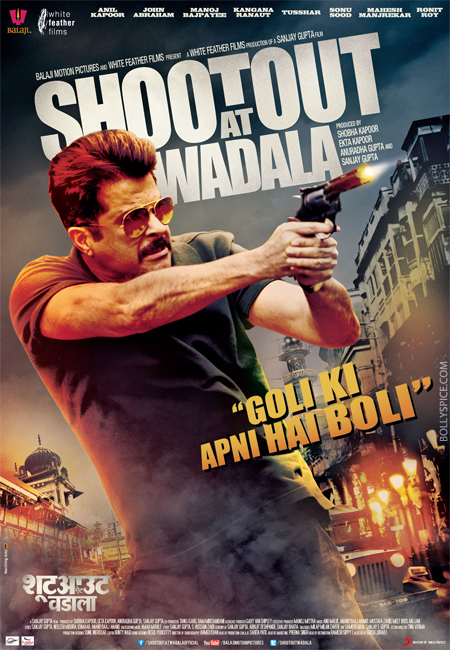 S. Hussain Zaidi is a Mumbai based investigative crime journalist, who has worked for some of India's leading newspapers. One of his previous best selling books was Black Friday, which Anurag Kashyap successfully transformed onto screen. His most recent book is Dongri to Dubai: Six decades of the Mumbai Mafia and from this book has Shootout at Wadala been created. Sanjay Gupta says without it he could not have made this film, Anil Kapoor called it by far the best book on the Mumbai mafia and John Abraham hailed Zaidi as a master storyteller. If you have not had a chance to read the book, take it from us, it is an absolutely amazing book and having read the book recently, our expectations are sky high for the film. Further, Sanjay Gupta is back after a long hiatus and John Abraham attempts the role of gangster for the first time.
Cinema has always had a fascination for the underworld and their dons, creating cinematic magic, whenever their stories are told on the screen. Bollywood is no different, with every accomplished actor and director attempting the genre. What is only 8 pages in Zaidi's book, under a chapter titled Mumbai's Hadley Chase and is about a gangster called Manya Surve, becomes a two and half hour film. Manya killed reigning King of Mumbai Dawood Ibrahim's brother Sabir. Manya was eventually shot dead on 23rd January 1982, at the age of 37, after a two month police hunt. The police were led to Wadala, following a rumoured tip off from Dawood. He was riddled with 6 bullets, fighting till the very end. Dawood had avenged his brothers death, whilst Mumbai police had carried out its first official encounter, creating a precedence for many more encounters to follow.
Story: Both S. Hussain Zaidi and Sanjay Gupta are credited with the story, with screenwriting credits going to Sanjay Gupta, Abhijeet Deshpande and Sanjay Bhatia. What they all have successfully managed to do is take a lesser known underworld character, but an important one none the less and added his backstory, motivations, love interest, rise and ultimate death. As mentioned Zaidi's book only dedicates 8 pages to Manya, but along with Gupta and his team they have created an engaging, layered and commercial film, humanising Manya along the way. One aspect which needs to be given credit to is the dialogue and any underworld film needs to be complete with 'dialgoue-baazi' and one liners, which need not be crass. Here dialogue writer Milap Milan Zaveri must be given top stars, as the dialogues fit the genre without being too cliche and pack in a few funny ones along the way.
Directing: Gupta has been crowned king copycat in the past, but credit where due he has crafted a good film here, with the right amount of action and item numbers to keep the audience engaged. It is no classic, but nevertheless entertaining and a film for the masses. Credit for the action sequences must go to Tinu Verma, which form part of the high points of the film. The film is set in the 1970s and Gupta's team has got the look and feel right. It is not kitschy or retro like Once upon a time in Mumbai was, but more real and gritty from the prison scenes, to the shanty towns. So full credit to Sameer Arya and Sanjay F. Gupta for creating this.
Soundtrack: A number of music directors were used to deliver the soundtrack, Anu Malik, Anand Raaj Anand, Meet Brothers Anjaan and Mustafa Zahid. A film of this genre needs its item numbers held in bars and brothels and here we don't have one, but three – 'Laila', featuring Sunny Leone], 'Babli' withPriyanka Chopra and 'Aala Re Aala', filmed on Sophie Choudry. These songs add to the film's mass appeal and fit well with the characters and of course one needs Mika Singh to deliver the vocals, which he pleasantly does. More importantly though is the background score, which has to fit the mood and tones of the film. All credit to Amar Mohile, as the background score sticks to the script throughout.
Acting: Finally to the highlight of the film, the actors. Manoj Bajpayee and Sonu Sood are perfectly cast as Sabir and Dawood Ibrahim. This story is about Manya Surve, so Dawood and his brother do take a bit of a back seat, but it was important that good known actors were cast to play them, as after all they are integral to the history of Mumbai's underworld. Anil Kapoor is still a force to reckon with, his anger and intensity is always so spot on, that any director casting him can pretty much leave him to it. Mahesh Manjrekar has been the mainstay of many of Gupta's film, but here his role and performance fails to leave an impact. Kangna is the only female star in the film, so she had the potential to stand out, but really just fades, not being able to rise above a very standard performance. Tusshar Kapoor is brilliant. Compared to the underworld role he played in Shootout at Lokhandwala, here he much more refined, in his accent and performance. Finally to John Abraham, initially one can think he would be too pretty to play Manya, but we all know he can play a charming villain (Dhoom, Race 2). However, in Shootout as Wadala John supersedes all expectations, without needing to play the caricature or stereotype of a gangster. He emotes extremely well with his eyes, displaying emotion and anger. His body may be overly sculpted for a gangster, but it works, as it makes him come across as a strong, powerful and menacing character. John makes Shootout at Wadala a great watch, mainly as you have never seen him in a role like this and because it pushes him much further as an actor than say the recent Race 2.
For fans of the underworld genre, you should not miss Shootout at Wadala, as there is a lot of fact and history in the film. Fans of John Abraham should definitely not miss the film, as his role is poles apart from what you have seen him in before. Families, rom-com lovers and romantics probably best stay away if it's not your cup of chai. On the downside the film could have been tighter, with the two and half ours being trimmed to around two. Shootout at Wadala is not classic, nor is it a 'great' film, but definitely 'very good', particularly if you have read the book, or enjoy the genre.