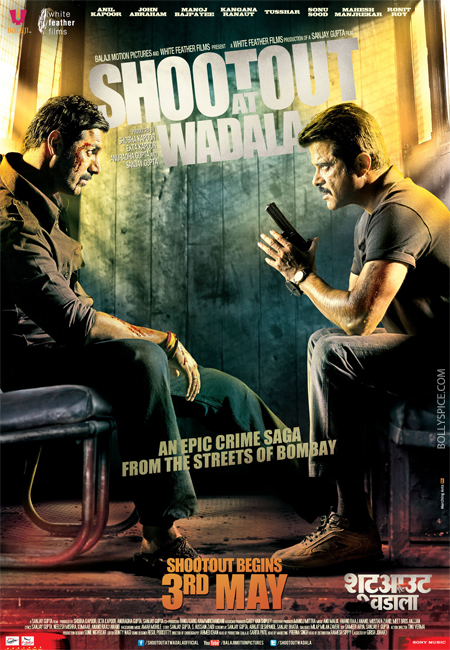 Sanjay Gupta's Shootout at Wadala hits theaters on May 3rd. A prequel to his Shootout at Lokhandwala, SAW tells the true story of a war between the notorious and charismatic gangster Manya Surve (John Abraham), the dreaded gangster Dilawar (Sonu Sood), and Inspector Afaaque Baagraan (Anil Kapoor). The crime-drama also features performances by Manoj Bajpayee, Tusshar Kapoor, Ronit Roy, Mahesh Manjrekar and Kangana Ranaut. The director brought in an eclectic mix of composers to create the music and the sound of the film including Anu Malik, Anand Raaj Anand, Meet Bros Anjjan, and Mustafa Zahid, as well as remixes by Gourov Das Gupta & Roshan Balu and Mayur Sahani. Let's take a look and see if you want to have a listen.
Aala Re Aala, composed by Anu Malik, begins with a strong dance beat and with the addition of a brassy wail of a trumpet it sets the scene for a dance number for Sophie Choudry. Sunidhi Chauhan sings with an energetic, spicy, snap, especially on the Aala Re Aala lyric, that seems perfect for the feel and rhythm of the song. Then it gets a bit odd because Mika Singh joins in in a very smooth vocal avatar supported by Punjabi beats, which is good in its own right, but it is confusing because it is so much in another musical space. The switching between Sunidhi and Mika's completely different sections really just doesn't mesh at all. There are even more parts of the song that are a mix of styles that at times are very cohesive, but at other times fight each other. I have to say the only part of the song I really liked is when Sunidhi and Mika are each singing their strong Aala Re Aala sections with that very strong percussive beat. That makes for a very good dance number but the rest doesn't mix and the song does not play in the end.
There is also Aala Re Aala Remix by Gourov Das Gupta & Roshan Balu, which adds electro-synth overlays and under beats with a sped up tempo. Adding those elements somehow mixes the two different tones of Sunidhi and Mika together and it works better, it is not so jarring. The layers of beats and instruments they laid down makes it a very dancey trancey track. I am not usually a fan of remixes, but this one I am. 


Babli Badmaash is a very disco track with music by Anu Malik. As you probably know, this song featured Priyanka Chopra in her very first item number. Sunidhi Chauhan is wonderful on the track, singing with great energy and zest especially on the Babli Badmaash stanzas. However, sometimes it sounded like her vocals were fighting the music so this is not my favorite song by her. There are some nice change ups that added to the track but there was just something missing. A good song yes, but a great song, not so much. There is also a Babli Badmaash Remix By Gourov Das Gupta & Roshan Balu, which you also should give a try especially if you like the original.


Composed by Anand Raaj Anand, Laila features Sunny Leone in an item number in the film. The cool thing is that this time it is not a female vocal driving the song, this one has fab vocals by Mika Singh and he adds a depth and a new flavor. 'Laila' has this cool syncopated beat that gave the song it is own unique flavor. It is also with filled many layers and many different sections including rock, orchestra and a jazzy trumpet which sort of work, but I think were not needed. I liked pared down sections with Mika Singh doing what he does best, with the cool dance and Dhol beats, but like many of the tracks on the album the rest could have been toned down. The Laila Remix by Gourov Das Gupta & Roshan Balu gives the song a completely different groove that I really liked. These guys add the right beats, different and interesting layers and pick the right moments so the song is not overpowered by the remix, it is enhanced. A different song so I would say let it play!
Yeh Junoon is my favorite track on the album and now resides on my favorite Bollywood ballad playlists as well. Mustafa Zahid has this dreamy, romantic voice that makes you want to hit play again before the song is even over. He sings with such strong, passionate, vibrancy and gently longing it is brilliant. The music is great, though I wish it had a bit more depth in some of the refrains, some lower bass to round it out so it is not so tinny, but that is being picky. With each listen I liked the music more. But the highlight is Mustafa's voice. This one is a must listen. 


Yeh Junoon also gets a Remix by Mayur Sahani. Though it is very true to the song and well done with some cool elements that were unexpected, this song never should have had a dance remix. I so love the original that this really could have been skipped and you should skip it. Just enjoy the purity of Mustafa Zahid's vocals in the original. 

Meet Bros Anjjan come in with Aye Manya. Joining in the vocals are the great Adnan Sami and wonderful Shaan. I am always a fan of how Meet Bros Anjjan mix many different genres, styles and feels and once again in this song it works. Shaan kills it. He has this gritty, strong vibe that is brill. Adnan Sami is, of course, fabulous too. A very strong percussion line adds to the depth. Give this one a try, the more I listened the more I liked and I think we will like it even more once seen in the film! 

Meet Bros Anjjan also bring us Goli, an anthem with a very strong backbeat and a very powerful dark vocal. It transposes into a more rock flavored track with that full on rock electric guitar riff but always there is that thumpin', stomping under beat that drives it forward. Meet Bros Anjjan, Sudesh Bhosle, bring in the vocals as well as spoken stanzas by Anil Kapoor and John Abraham. Love the deep vocals, really seems perfect for the whole feel of the song. I think it will work well in the film and it will be interesting to see what scene this song will accompany. 

Goli's Remix by Mayur Sahani is also very good. It has a different vibe and is not as let's get on the dance floor as many remixes tend to try to be. He adds some really wicked elements. What is excellent is that in parts it simplifies the song and showcases the cool vocals. This one is another remix that I say is one you must keep on your playlists because I liked it almost as much as the original. 

At only 48 seconds we could have left Ek Din Ke Liye off the review, but we had to include it. This song just showcases her entire talent in vocal, intonation, range and feeling and proves why Sunidhi Chauhan is brilliant!
Shootout at Wadala is an OST of many different flavors and styles and tracks. They all sound good and some even great, but did I love every note, no. On the plus side, I am usually not a big fan of remixes, but the remixes on SAW are really good and in some cases I liked them better than the original. My pick has to be 'Yeh Junoon' as the song of the album. In the end, I was neither overly impressed nor completely underwhelmed with the songs of SAW. I think many of these will play better within the film and the action.