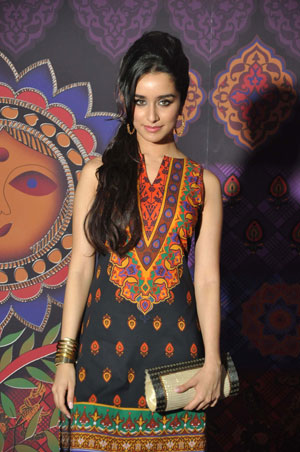 The festival of our lord Ganesha is back and Shraddha Kapoor the leading actress of Luv ka the End and Teen Patti, is as excited as ever. Source's have it that her family always bring Ganesha to their home and Shraddha, ever since she can remember she was overjoyed to have Ganpati Bappa home.
"Its been a ritual, I've grown up worshipping Ganesha every year of my entire life & am blessed to celebrate the festival in my very own home. It is important to keep our culture and timeless beliefs in mind." Say this young bollywood starlet.
She shows a lot of maturity as she goes on to talk about tradition going hand in hand with protecting the environment. In recent years our society has started understanding that this beautiful festival is not the problem, the really issue in hand is the POP idols immersions and the plastic bags with flowers which have been damaging our mother earth for so many years so thus came the introduction of the Eco friendly Green Ganesha.
"I do believe that we have to care for planet earth and adapt according to its needs to preserve it and make it better. Hence Green Ganesha, I strongly support it & will be making sure that just like its inception, this year as well, I bring a Green Ganesha to my house and urge everone not to dump plastic in the sea." She continued to say.
Well honestly it's very encouraging to see young Bollywood adapt and try and change traditions to bring way for a brighter future.
We too support you Shraddha and hence it's time to tell everyone… This year lets Go Green!
From everyone at BollySpice.com we wish you a very Happy Ganesh Chaturti!