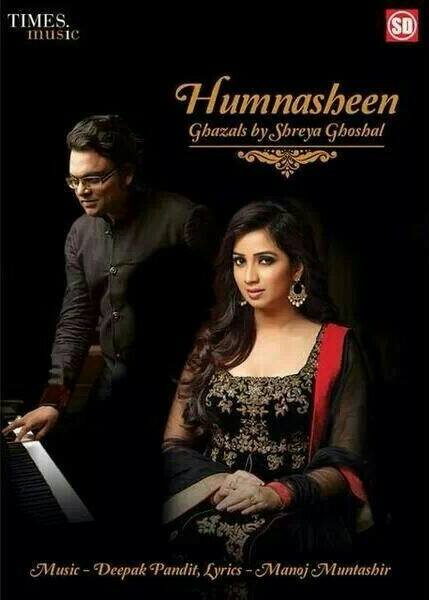 Shreya Ghoshal presents us with Humnasheen; the first Ghazal album by one of India's most acclaimed singers. Famous for her playback singing in Bollywood, Shreya has spent the last two years working on Humnasheen and has described it on her Facebook and Twitter pages as "A heartfelt humble effort from me to revive pure form of ghazals." The music to this album has been composed by Deepak Pandit, with lyrics from Manoj Muntashir. So has Shreya's long efforts with Humnasheen been worth it? Read on to discover our verdict!
To kick start the album, we have 'Ye Aasman.' Probably one of the longest tracks in the album at a length of over seven minutes, you will need a great deal of patience to fully appreciate this one. Nevertheless, I enjoyed the unconventional style of this song and Shreya sings with full throttle passion. In addition, I very much like the way in which the composition has been arranged. This gives the song a nice Indian texture to it which makes it hard to not enjoy! Overall, a good effort which definitely deserves a listen!
Following this, we have 'Naam Likh Kar.' I love how the song starts off with a mix of the guitar and the sitar. Shreya's voice also gives the song that mellow touch which it needs, making it one of the highlights of the album. In addition, given that I am a fan of classical Indian music, I really appreciated the use of the tabla and sitar in this song. The lyrics have also been very well written. A brilliant song that you should not miss out on hearing!
We also have 'Yeh Dil Jo Pyaar Ka,' which to be honest is not as strong as the previous two tracks. Although Shreya's vocal performance was flawless, the music did not have as much of an impact on me in contrast to 'Ye Aasman' and 'Naam Likh Kar.' Having said this, it is not a bad song and may be enjoyed by other segments of music lovers.
Next up is 'Raaton Ko.' Although the song is slightly overstretched, I found it to be a nice relaxing number. The music complements well with Shreya's vocals and the lyrics have also been well written. The length of the song may put people off from listening to it in full. Yet I recommend that you give it a try as most ghazals are quite long in general anyway. A respectable attempt by Shreya that deservers your ear's attention.
'Maahi Rokna Aaj' is next and this has a more upbeat flavour to it compared to the other songs in the album. I found this one to be an average number which could have been better if a little more work had been put into it. It's a shame as it could have been one of the major highpoints of the album.
Following this we have 'Teri Talaash.' This is another great track which has clearly been composed with a great deal of thought. Shreya's vocals in particular stand out in this one and she manages to exude the precise emotions through her voice which makes it all the more melodious to listen to.  The music has also been well composed and instruments such as the tabla have been well executed.
'Shamma Jalti Rahin' is next which is good but not great. I think it may appeal to other listeners more than me. It just didn't click for me in the same ways as some of the other songs in the album. Hence, try it and see for yourselves whether or not it is your kind of song.
Finally we have 'Kuchh Rishtey' which brings the album to a beautiful close. I loved the use of the piano, the flute and the sitar, which gives the song that flavour it needs. I also appreciated the lyrics and Shreya's beautiful voice, which gives the song a very soulful tone. This is another splendid track that is worth your time!
Having listened to Humnasheen in full, it can be said with confidence that Shreya, Deepak and Manoj have gifted us with an album that should be treasured in the years to come. Although a few songs could have been improved; I found the majority of them to be of a unique style and presents Shreya in an alternative avatar. Praise is due to her for exemplifying that music is more than just Bollywood. Known largely for her work within this industry, the popular singer has demonstrated that she can entertain us all through other means also. Humnasheen is a fine example of why Shreya Ghoshal is considered to be one of India's most beloved singers!