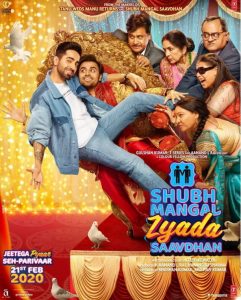 14th February may be Valentine's day around the world; a day for love to spring forth, but for Bollywood it's time for the annual love movie. Last year Sonam Kapoor Ahuja took this love in a new and unknown direction portraying lesbian love in Ek Ladki Ko Dekha To Aisa Laga. 2020 has brought Shubh Mangal Zyada Saavdhan, which releases the 21st, a film celebrating gay love in a way that it never has been before. Of course, the lead role is being taken on by Ayushmann Khurrana, who never seems to shy away from difficult, controversial or out-there roles and so the film takes on the name of Shubh Mangal Zyada Saavdhan: a sort of follow up from Shubh Mangal Saavdhan from 2017. A great combination of stars come together for this film but to concentrate on the story the album has only 3 short songs which are all handled by Taniskh Bagchi, Yo Yo Honey Singh and Bappi Lahiri.
The first song is a dance floor wedding song Pyaar Tenu Karda Gabru. Not only is this a standard bhangra with a bit of extra beat, it is a copy of Yo Yo Honey Singh's collaboration with J Star from 2012 "Gabru" from his album International Villager. As its also originally by Yo Yo, it has hardly changed from what was a decent original musically speaking. The lyrics are however fitting for the scene, with small changes from the original meaning it's obvious of the intent. As there isn't much in the way of LGBTQ+ friendly music in Bollywood to compare against, this does thus have a category almost to itself.
Ayushmann brings his own beautiful voice to the mic for the second song Mere Liye Tum Kaafi Ho. Even though this is directed by Taniskh, it doesn't appear to be a remake of anything so taking this song at face value, its simply a beautiful love song. A light beat, acoustic guitar with a mandolin as a perfect love combination, all sit behind Ayushmann being sonorous. He proclaims everything beautiful, but in all things, there is an even beauty which never goes too far: its just enough. Nothing special effects wise in the music, just light, breezy, easy and lovely. Hopefully Taniskh will do more of this in the future.
To round off the album is Bappi Lahiri singing "Pyar bina chain kaha re" in Arey Pyaar Kar Le. For those familiar with Bappi's works, this will be of no surprise to find this a remake, this time from Saaheb in 1985. The original was sung by Bappi Da himself along with the famous South singer S. Janaki. For the modern version, there is a lot more noise, with synth all over the place but still not losing somewhere in there the original song. This follows the pattern of Bappi Lahiri's other remakes also, so again no surprises there.
This whole album is 8 mins long with 3 of the shortest songs ever released in Bollywood cinema history. Still, even in this there is plenty to tell the story of Shubh Mangal Zyada Saavdhan as there's plenty of reworking of lyrics in the remakes to bring out not only the love but the man love. Nevertheless, being this short there's nothing in it for the music lovers, whether old or young, as both will find that in the new versions there isn't enough to make them their own song, nor is there not enough to just return to the originals automatically. Its all over in a flash, but still manages to have its good points.