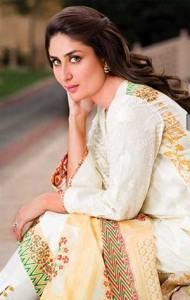 If few days ago we informed that Karan Johar's Shuddhi was going on with Salman Khan and Kareena Kapoor in the lead roles, it seems that these reports were just rumours,and it was Kareena herself who confirmed that the film is a shelved.
When asked about the question, Kareena categorically denied the information. "It is all created by you all (media). Shuddhi is shelved. Karan is working on The Warrior remake I think with Sidharth Malhotra and Akshay Kumar… this is what Karan said. It (shooting) will start in August," she told TOI reporters.
The actress of Ra.One granted a group interview where she talked about marriage and how this new stage in her life has affected her career choices. "I am married and I would like to give time to my family," she assured.
Kareena's priorities have changed and she is not longer willing to accept roles that will keep her away for long periods of time. "That is the reason why I refused Zoya's film (Dil Dhadakne Do). I couldn't go on a cruise for three months. I want to do a film which will work according to my time. I am very clear about that", she added. After Kareena stepped out of the project, the role was taken by Anushka Sharma, which is part of a large cast composed by Ranveer Singh, Priyanka Chopra, Farhan Akhtar, Rahul Bose, Shefali Shah and Anil Kapoor.
She also talked about her film choices in the past and how friendship has played an important role in her career. "I have done a lot of films for friends. Now I want to do films for story. I don't regret it (having done any film for friends) and for me, it's never a mistake. I am like that – I always think from the heart – so it's fine", she said. Although the actress is widely known for commercial films such as Kabhi Khushi Kabhie Gham, Bodyguard and Ra.One, her filmography also includes bolder roles in films that were critically acclaimed, like Dev and Omkara.
Now that Shuddhi seems definitely discarded, we hope to see the actress in new interesting roles in the future. Follow Bollyspice to know the latest news about Kareena Kapoor Khan!