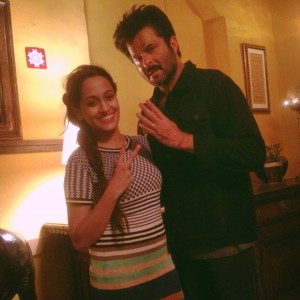 Shweta Pandit, the popular singer behind superhits like Raghupati Raghav (Satyagraha), Madhubala/Do dhaari talwar (Mere Brother ki dulhan), Mundeyan nu Thag le (Ladies Vs Ricky Bahl) and of course the lead singer for AR Rahman's world tours and concerts.. is in news yet again for surprising us!
The young singer has bagged a plum guest role with our Jhakaaaas global star Anil Kapoor in none other than his Indian version of the popular international thriller TV series "24".
Shweta, plays Radhika – the daughter of Sivam, an LTFE supporter who takes Jai Singh Rathod (Anil Kapoor) hostage in his house by his friend Ravindran (The leader of LTFE). What happens next in the thriller is to be seen this Saturday 14 December on Colors. Shweta will be seen sharing screen space with Anil Kapoor for the first time.
Shweta says, "I got a call from the casting team of 24 after they saw my work in Bejoy Nambiar's DAVID earlier this year. Abhinay Deo, my director later told me that he was very keen on having me for this season after he saw my test and he offered me Radhika's role. The exciting part is my interaction is with Anil uncle and its a very thrilling and action oriented sequence filled with twists and tuns just like expected in 24."
How was the experience for her to work with our Mr. India? Answering with a big smile, she says, "24 has given me a chance to act with Anil Kapoor – such a legend of an actor who has worked for almost 4 decades in Bollywood, what more can I want. After the shoot, I asked him if I managed to pull off my character, because he had only heard my singing several times at Rahman sir's concerts earlier and he hugged me and said – 'You have pleasantly surprised me with your immense talent of acting, I always knew you an an amazing singer! I think you are the female Kishore Kumar', these words of encouragement will always be special and I can say he's the most humble and focussed actors to work with. Its been an unforgettable experience working with him. 24 has the most amazing crew."
Anil uncle had worked opposite Shweta's aunt Vijeta Pandit in Mohabbat (1985) and Shweta told us he was so happy to work with the 2nd generation in the same family as an actor.
After the shoot, Shweta goes to Toronto for a concert with South superstar composer, Yuvanshankar Raja (Illayaraja's son) on 21st December at Ricoh Stadium and then she shoots her music videos in Los Angeles and then goes on tour with AR Rahman in January 2014.
This girl never fails to surprise us!
Way to go, Shweta!
Can't wait to see what you bring us in 2014