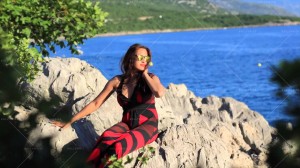 Post the success of the music of UTV Motion Pictures' Raja Natwarlal, Shweta Pandit, the original singer of the super-hit song "Tere Hoke Rahenge" (Reprise) recreates an Unplugged Version on guitars by the talented Luca Giovacchini and Carlo Puddu from Barga, a small town near Lucca in Italy, under the Tuscan sun. Raja Natwarlal directed by Kunal Deshmukh and stars Emraan Haashmi and Humaima Malik in lead roles.
'Tere Hoke Rahenege' has already struck a chord with the music lovers. An amalgamation of Shweta's soulful voice, Irshad Kamil's lyrics and young music icon Yuvan Shankar Raja's music in Bollywood for the 1st time, the song has already climbed the music charts becoming one of the topmost streamed tracks on all the music's channels and on social media.
Talking about the song, Shweta said, "Shooting across Europe for this song has been mesmerizing, I have been with my amazing team Emon Mitro (DOP) and Ivano Fucci (Executive Producer), between the mountains and the sea, to give a deep feeling to this song in the most beautiful way possible. All the fans of this song have been wanting to hear an Unplugged Version, this is my little gift to them. Yuvan's music is so soulful and the scenario I have chosen, matches with it: Italy was my first choice to create the music again, and I've worked with Italian musicians for the 1st time and am
humbled by their hospitality and love for Indian music. I am very thankful to them." The music video, featuring Shweta herself, is about a young girl on a journey of love, waiting for her lover and remembering all the special moments as a journey through the song.
The video is shot entirely in Europe.