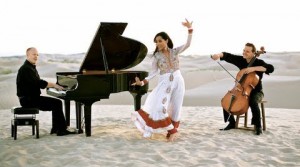 What happens when you fuse a creative American musical group with a dynamic Indian vocalist? Musical nirvanva, as presented by The Piano Guys and Shweta Subram in their latest single Khushnuma.
Shweta Subram, an accomplished vocalist from Canada, is well-known in the South Asian music scene. Besides performing with Salim-Sulaiman at the IIFA Awards, Shweta has also won Shankar Mahadevan's global singing competition and has worked with renowned artists like Shankar Tucker, Karthik, and Pravin Man
The Piano Guys' creative renditions and mashups of popular songs coupled with breathtaking videos have made them an online musical sensation. With Jon Schmidt on piano, Steven Sharp Nelson on cello, Al van der Beek as music producer and songwriter, and Paul Anderson as producer and videographer, The Piano Guys have over 250 million hits on Youtube and are signed by Sony Masterworks. These guys have been featured on popular TV shows such as The Katie Couric Show, and Jay Leno's The Tonight Show.
After releasing a number of hits, The Piano Guys embarked on a quest to experiment with Indian music and serendipity brought them to Shweta. They heard of Shankar Tucker and while researching his music, they fell in love with Shweta Subram's voice and screen presence in Mere Saajan Sun Sun. Steve recalls, "Shweta immediately stood out to us – her smile was so genuine and contagious. She naturally emitted such amiability in her stage presence that we were drawn to her performance. Her voice effortlessly depicted an Indian classical vibe while still being completely accessible. We contacted her and by the gift of Providence her PR agent was a self-proclaimed 'big fan' of ours and had shown Shweta some of our videos just a week before."
'Khushnuma' is an adaptation of 'Don't You Worry Child' by Swedish House Mafia. According to Steve, this song was selected because, "We loved the spiritual essence of the chorus – we agree that Heaven has a plan for everyone and that it's better than any plan we could come up with on our own. As Shweta selected Hindi lyrics for our arrangement she extended this spiritual theme. In fact, the lyrics in the intro come from a traditional Hindi prayer. Our alternative title Khushnuma means journey to happiness and no worries."
Shweta considers this to be her most exciting project so far and had a fantastic time working with The Piano Guys. She recalls, "The guys were easy going and open to experimenting with new ideas. We had a fantastic time recording the song and shooting the video – it felt more like a party than work. These guys are extremely talented and it's an honour to be chosen for this project."
In writing the music, The Piano Guys studied traditional Indian instruments and artists such as the legendary Pandit Ravi Shankar and his daughter Anoushka Shankar. Shweta was accompanied by Abhay Jodhpurkar in penning the lyrics. The music video has been beautifully shot in the deserts of Little Sahara and at the ISKCON temple, both in Utah.
Check out the video for the gorgeous song!
The song already has over 400,000 hits on YouTube and it has only been live for 2 days!
We also have a bonus, the translation of the lyrics!
(Traditional Hindi Prayer)
Twamev mata ca pita, badhu, sakha, vidya, dravidam
Sarvo mum deva deva
[You are truly my mother and my father, my friend, my kin, my knowledge, and
my wealth.
You are my everything, my God of Gods]
Khushnuma
[Happiness without worry]
Kuch saalon pehle ki baatein, Mujhko yaad aayi
[There was a time years ago]
Jisme mainey kuch galtiya ki thi
[When I first met adversity]
Aur phir jaane kyo, Dil ye rota tha
[My heart cried out in sorrow]
Kyonki nadaani karnaa aasaan tha
[When in my innocence I stumbled]
Mere dil ki hai dua, Khush raho sadaa
[In my heart I pray for happiness]
Na bhoolana… Khushnuma
[Always remember…happiness without worry]
Sun le zaraa… Dil ki dua
[Hear me … the prayer in my heart]
Sun le zaraa
[Hear my heart]
Download the song via iTunes at https://itunes.apple.com/us/album/dont-you-worry-child-feat./id669221825
Follow Shweta Subram:
Facebook: www.facebook.com/ShwetaSubram
Twitter: www.twitter.com/ShwetaSubram
YouTube: www.youtube.com/ShwetaSubram
Website: www.ShwetaSubram.com
Follow The Piano Guys:
Facebook: www.facebook.com/PianoGuys
Twitter: www.twitter.com/PianoGuys
YouTube: www.youtube.com/ThePianoGuys
Website: www.ThePianoGuys.com