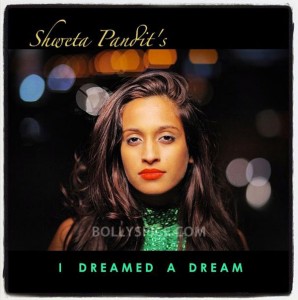 Recently we revealed the video of singer Shweta Pandit's outstanding version of the showstopper 'I Dreamed A Dream' from Les Miserables. Her take on the song has gotten a tremendous response the world over and even some incredible praise from the maestro himself. See whom we mean and more as I caught up with Shweta for a quick 'I Dreamed a Dream' chat!
Your version of 'I Dreamed a Dream' has gotten an outstanding response and some wonderful praise! How does that feel?

It has been incredible. When I was recording the song, I was a little unsure that people would like it because I was singing an English song for the first time. You know most of my songs here in India have been popular and people know that I sing in different languages like Hindi, Tamil and Telugu. The only thing about an Indian singing an English song is that it sometimes sounds like you are trying to hard and I didn't want that to happen. I am really glad that I was working with an American team and they were really critical at the right places. They would call me out and say, 'Hey, you are sounding too Indian man'. I mean, there is nothing wrong with that, but for this song I felt that I knew what they wanted. They wanted a right balance between being what I really am from inside and what my real calling is and also at the same time do justice to the song. They gave me the right kind of feedback while we were working on it. I am really glad.
What is so amazing is that people from all parts of the world actually heard it. It is not just for the Indian audience. It is also for people in Europe, it is for people in Canada, it is for people in US and in Australia. You won't believe the kind of response that I got. The song was recorded in LA and I played it first to the people there. The film was on verge release, it was releasing at Christmas. And I was like Oh My God the film is releasing and Anne Hathaway has sung this song and it was just kind of doubled the whole expectation. At the same time it was exciting because like in our last chat I told you I have met both Anne and Hugh Jackman and the fact that they were together in a film, it just added more beautifully to the whole thing. It became more like a tribute to the fact that I really love this song and Anne Hathaway was singing it.
I saw that AR Rahman appreciated your version of the song… Tell us about that!
YES! I was performing with AR Rahman last week and you know I wanted to send this song to him. I was like I don't know if he is going to be busy or if he is going to really hear it or give his feedback so I actually didn't send it to him. He came for rehearsal and when he saw me he was like, 'Hey, I heard 'I Dreamed A Dream' and it was superb!'  Amazing! You know if I had sent it to him and waited and then asked did you like it… you know? But the fact that he heard it himself and told me about it was just amazing. It actually made my day! I remember I was feeling sick on that day. I was running a temperature, but the moment he said that I was jumping. I was back to my normal spirit. So excited. And everyone was like, 'Weren't you just telling us you were feeling sick?' (Laughs) 'But Ya, he just complimented me! The man himself said he loved my song'. And I know he wouldn't say it if he didn't mean it. He wouldn't mention it to me if he didn't like it. So the fact that he saw me and the first thing he told me was that he really liked the version that we made, was probably my greatest compliment to the work that I did. He is somebody who will only compliment people that he knows that okay this is a job well done and only then would he actually bring it up. He complimenting it made up for everyone else who didn't like it probably. (Laughs) I was like I don't care anymore if anyone else didn't like it because the person I am inspired by loved it and that means more to me as a musician. 

In case you missed the song here is the video again!

Stay tuned tomorrow we have an exclusive with the singer about her debut role as an actress in Bejoy Nambiar's upcoming David!