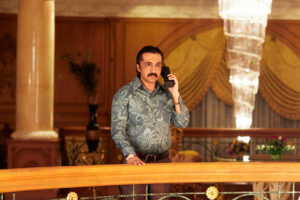 Shraddha Kapoor's brother Siddhanth Kapoor will be next seen playing Dawood Ibrahim in Apoorva Lakhia's upcoming film 'Haseena Parkar', which is based on the life of Dawood's sister Haseena (played by Shraddha) and Siddhanth revealed something shocking in an exclusive interview with Movie Talkies.
Siddhanth said, "Apoorva and me used to play cricket a lot and one day, he summoned me over to his place and asked me if I know who Haseena Parkar was. I said I have no idea as though I had heard or read about Dawood, I was absolutely clueless about the fact that he had a sister. After that, Apoorva told me that he wants me to play Dawood in a film based on Haseena's life. My first reaction was that Apoorva was joking with me because I could not believe this at all!"
Directed by Apoorva Lakhia, Haseena Parkar stars Shraddha Kapoor, Siddhanth Kapoor and Ankur Bhatia. Produced by Nahid Khan with Swiss Entertainment and co-produced by Sameer Antulay and Babu Tyagi, the film is set to release on 
September 22
.