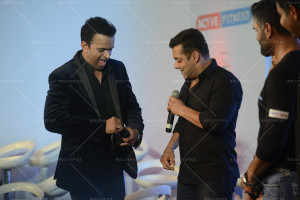 One of India's most popular TV and Radio hosts Siddharth Kannan is now hosting a show ('FIT AND FAMOUS') on one of India's leading DTH service provider's new interactive fitness channel. This show which launched on Sunday, 11th October, will be featuring Icons from different walks of life-business, politics, sports, A list Bollywood stars among others. Here the guests will spend the day with Sid K, talking about their personal journey and what inspired them to become 'fit'. They will also showcase their workout regimes and share anecdotes closest to their hearts interspersed with Sid's brand of wit.
Salman Khan had launched this first of it's kind interactive fitness platform with the mentor of the channel-Sunil Shetty. Siddharth Kannan was also hosting the launch and what transpired between Sid K and Salman Khan on stage cracked up the audience who were rolling down the aisle with laughters. Salman announced that he wanted to be the first subscriber of this platform. Sid K, known for his spontaneity, immediately took out Rs 150/- from his wallet and gave it to Salman to pay for the subscription on Salman and his behalf! Salman sportingly took it and specified that this was a loan from Sid K and offered to pay the cash to the representative of the interactive platform. She refused saying they only accept cheque or online payment. Salman took Sid's cash and kept in his back pocket. Sid had to remind him that it was a loan, which Salman had to return.After a witty banter between the two personalities, Salman finally returned the cash to Sid K.
Later on after the event, Sid K realised Salman still has some of his money with him. Looks like the 'interest' on Siddharth's money lent to Salman is piling up!!! Will Salman Khan return the loan to Sid K, only time will tell.