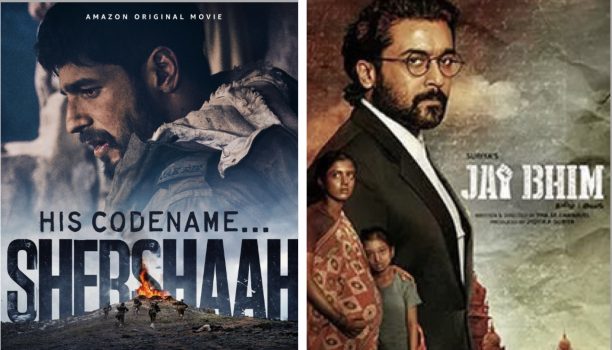 The Hindi film Shershaah as well as the Tamil film Jai Bhim, topped the prestigious IMDb list of most watched Indian films of 2021. Incidentally, both films based on real-life characters and incidents films released on Amazon Prime Video.
Jai Bhim, a loud but hardhitting film on poverty and police brutality is set in the 1987 and based on a real-life incident where an innocent man from the destitute Irula tribe in Tamil Nadu was taken into custody and beaten to death.The survivalist narrative, punctuated by cries of anguish and whoops of triumph, is a terrific star-vehicle for Suriya who steps in 30 minutes into the plot, to play the heroic lawyer Chandru who, we are told , habitually fights cases for the downtrodden.
Suriya is most comfortable in the messianic role imbibing his compassionate character with an unreasonably steep amount of empathy. I guess a society based on monstrous discrimination does need Chandru to stand up for the voiceless. But in reality, how many such messiahs come forward to rescue the powerless multitude ?Here is where Jai Bhim takes a nosedive into fantasy. It portrays the activist-lawyer as a wand waver,weaving his magic through a complex and murky labyrinth of legalese,bringing the wrongdoers to heel. It's all done for claps.
Suriya, Founder of 2D Entertainment, Producer & lead actor of Jai Bhim said "As an actor and producer, it's not often that you come across incidents that leave you shaken. Jai Bhim has been one such experience, a film I am immensely proud to be a part of. It underlines an inarticulate subject and narrates a story of helplessness and social change in a fine blend of emotions and drama. It's so heart-warming to see the love and appreciation that's been coming our way from all quarters, critics and audience alike. I am elated that Jai Bhim is a part of the coveted 'IMDb Top Rated Movies of 2021' and would like to extend my heartfelt thanks to our well-wishers and viewers for their votes. This kind of response reinstates our belief in good stories and the need to bring them to life. Thankful to Prime Video for taking Jai Bhim to more than 240 countries and territories."
Shershaah replays the events leading up to Vikram's death during the 1999 Kargil war with a brusque efficiency. It doesn't take the war genre forward. That isn't what this project set out to do. It aspired to bring alive a true hero's saga , and it does that successfully. Full marks to Amazon Prime and Karan Johar for giving future generations a glimpse into a life that was short but oh so significant.Anand Saigal would have approved. There is something irrefutably comforting about a bio-pic , specially if it chronicles the life of a true hero.And I do want to stress, true hero. In recent years we've had too many Bollywood bio-pics on gangsters and politicians and gangster-politicians. Shershaah honours a man who gave up his life at age 24 for his country.
Sure, we honoured Vikram Batra with a Paramvir Chakra. But ask his family, if the medal comforts them when they remember Vikram every single day. To his credit, Sidharth Malhotra plays Vikram Batra with a sincerity and honesty that shine through in every frame. In every frame he is Rajesh Khanna in Anand and Aradhana. You know he is going to be missed sorely once he's gone.
Sidharth Malhotra, who played Captain Vikram Batra in the Amazon Original Movie Shershaah, said, "It makes me really happy to see the continuous love and appreciation that Shershaah has been receiving. Bringing forth Captain Vikram Batra's story was very important to me and to see that the film has resonated with audiences across the world, making it to the list of IMDb's top-rated movies of 2021 is a great moment for our whole team! Acclaims like these motivate me to work harder for my audiences."
Malhotra plays Batra as unforgettable. Boyish, helpful, sincere and endearing…There is not a duplicitous bone in this soldier and lover-boy.The film allows the protagonist to fly freely.Director Vishnuvardhan's storytelling is remarkably liberated of gimmicks. If you are looking for unexpected twists and turns in a soldier's saga then I suggest you watch The Deer Hunter ,or maybe Abbas-Mastan's Soldier? Kitsch is not in demand in Shershaah. A Sreekar Prasad's editing and Kamaljeet Negi's cinematography are unobtrusive. They know who the true hero is this time.
6 out of 10 movies on Prime Video make it to IMDb's list of Top Indian Films. Jai Bhim emerges as the top film, while Shershaah, Master and Sardar Udham feature in Top 5. The Manoj Bajpayee starrer The Family Man ranks third in the list of Top Indian Web Series, while Mumbai Diaries 26/11 and The Last Hour also secure a place in Top 10
IMDb's list is derived from the IMDbPro Movie and TV rankings, which are based on actual page views of IMDb users and updated weekly throughout the year_
Following a year of incredible stories and superlative performances, Amazon Prime Video has 6 of its movies and 3 of its originals secure a place in IMDB's list of Top 10 Indian Films and Web Series of 2021 respectively. While the riveting courtroom drama, Jai Bhim has emerged as the top Indian film of the year, Shershaah, Master and Sardar Udham occupy the second, fourth and fifth spots in the list; Karnan and Drishyam 2 also feature in the IMDb Top 10 Indian Films of 2021 list. Meanwhile, much love Amazon Originals The Family Man, The Last Hour and Mumbai Diaries 26/11 take the third, fourth and tenth spot in the IMDb Top 10 Indian Web Series of 2021list. IMDb (www.imdb.com) is the world's most popular and authoritative source for information on movies, TV shows, and celebrities. The list is derived from the IMDbPro movie and TV rankings, which are based on the actual page views of IMDb users and updated weekly throughout the year.
This year's film ranking is remarkable not just for featuring direct-to-service (DTS) films, a concept championed by Prime Video, but also for having local language films rank high. Jai Bhim (Tamil), Master (Tamil), Karnan (Tamil) and Amazon Original Movie Drishyam 2 (Malayalam), transcended the barriers of language and geography to find love and appreciation from viewers worldwide. Similarly, Amazon Original Movies Shershaah (Hindi) and Sardar Udham (Hindi) opened to a remarkable response world over, going on to become two of the most successful Hindi films on Prime Video.
"At Prime Video, we are focused on bringing great stories to our customers in India & around the world," said Gaurav Gandhi, Country Head, Amazon Prime Video, India. "With viewership from 99% of India's pin codes, and world premieres of local content in 240+ countries and territories worldwide, we know that great content transcends linguistic or geographical boundaries. So many of our movies and series, this year, have won the love and appreciation of our customers and this is reflected in the IMDb's top 10 films and web series lists for 2021. We are super encouraged by this and are proud to be home to so many of the top stories and storytellers."