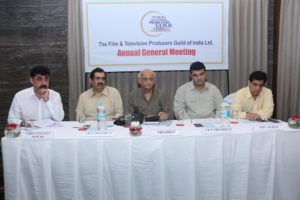 Siddharth Roy Kapur was unanimously elected as President of the Film & Television Producers Guild of India Ltd. ("Guild") at the first meeting of its newly constituted Guild Council of Management which was held immediately after the 62nd Annual General Meeting on 24th September 2016. He will assume responsibility as the President of the Guild with effect from 1st January 2017.
The current President Mukesh Bhatt and the management team will be holding charge until 31st December 2016. Subsequently, the new Management team will be constituted effective 1st January, 2017 at the time of new President Siddharth Roy Kapur assuming office. Kulmeet Makkar will continue to manage the affairs of the Film & Television Producers Guild of India Ltd. as its Chief Executive Officer.
The incumbent President Mukesh Bhatt said "Throughout the past 4 years of my tenure as Guild President, the Management Team has embarked on the path of my illustrious predecessors and worked with devotion and passion on reinvigorating the image and goodwill of Guild and now it is time to move on and hand over the baton to the younger generation."
The President-Elect Siddharth Roy Kapur said "In his four years as Guild President, Mukeshji has served the industry tirelessly, with tremendous passion and commitment. I look forward to building on what he has accomplished, and working alongside my colleagues to help address the challenges and build on the opportunities we have before us as an industry".
Subhash Ghai, Sunil Lulla and Rajkumar Hirani have been inducted into the Guild Council of Management. The members of the newly elected Council of Management of Guild are as under:-
Siddharth Roy Kapur (President-Elect)
Mukesh Bhatt
Dheeraj Kumar
Manish Goswami
Vijay Singh
Ashim Samanta
Srishti Arya
Ramesh Sippy
Manmohan Shetty
Ashutosh Gowariker
Rakesh Roshan
Karan Johar
Farhan Akhtar
Ekta Kapoor
Vishal Bhardwaj
Sushilkumar Agrawal
Madhu Mantena
Hiren Gada
Sabbas Joseph
Subhash Ghai
Sunil Lulla
Rajkumar Hirani
Kiran Shantaram (Permanent Member)
Randhir Kapoor (Permanent Member)
Amit Khanna (Permanent Member)
Kamalkumar Barjatya (Member Emeritus)
Rajkumar Kohli (Co-opted Member)
Issued by the Film & Television Producers Guild of India Limited