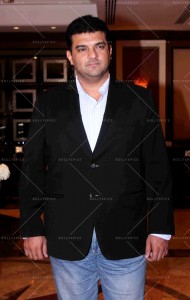 Siddarth Roy Kapur, founder of Roy Kapur Films has an exciting array of movies to showcase to the audience. He unveiled the future plans of the production house in an exclusive chat with a leading international website.
Besides, The Sky is Pink, starring, Priyanka Chopra, Zaira Wasim and Farhan Akhtar, Roy Kapur Films' next production is Saare Jahaan Se Achcha, which will be directed by Mahesh Mathai of Bhopal Express fame and written by Anjum Rajabali. The film is a biopic on Rakesh Sharma, the first Indian astronaut. A joint production with RSVP, the movie will feature an A-list cast, the announcement of which will be made by the end of this year followed by the movie going on floors in February.
Next in line is Sindbad, a thriller inspired by merchant navy officer, Audumbar Bhoi whose ship was attacked by Somali pirates. Directed by Vinil Mathew, the script has been penned by the scriptwriter of NH10, Sudip Sharma. The casting is still underway.
In 2019, Sooni Taraporevala of Little Zizou fame will direct Ballet Boys. The fact-based story details the lives of two slum boys, belonging to the Hindu and Muslim caste and their rise to fame after being discovered by an Israeli dance instructor.
Lastly, a film based on the real life story of Vijendra Singh Rathore, a truck driver who found his lost wife after a 19-month search in the aftermath of flash floods in North India, is in development.
Talking to Variety, Siddharth Roy Kapur said, "I'm genre-agnostic and scale-agnostic. Instinctively, I react more to drama, human drama, family drama, and love stories than to say, something like horror, but I'm open to all kinds."
RKF is also producing 10 original digital shows for Mukesh Ambani's upcoming Jio content platform that will start streaming from 2019. "The really exciting part for me about the Jio association is the breadth of reach that Jio has in India", he signed off.
We can't wait to see what he will bring to the big screen!