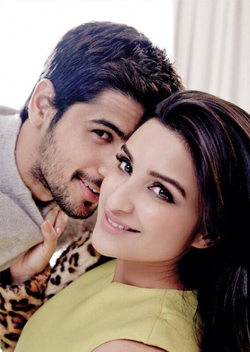 He made a splash and made the girls swoon with his debut film Student of the Year and now Sidharth Malhotra is getting ready to prove his acting chops! For his second film, the young actor will be seen in a quieter and his words "senti" character in the quirky Hasee Toh Phasee starring opposite the lovely Parineeti Chopra. We caught the actor in between promotional events for a quick chat! See what he told us about all things Hasee Toh Phasee!
So is acting something you always wanted to do?
No, actually I never had an option. Being from Delhi, and not being from Bombay, it is kind of a far-fetched thing for you to think that you can become a Hindi film hero. I think for me it started much later when I was 21-22 when I was modeling in Delhi and the agency asked me to audition for a film. I remember in my first audition I had like two pages of romantic lines. Now all there was was a small handy camera and I had to say the lines and not look into the camera but look in front of me where there was a slightly older man who had an injury in his neck, who was one of the AD's… I had to say the romantic lines to him. (Laughs) So that was my first encounter with acting. And oddly they liked it. So it worked! I must have done something right. That was my first audition and from there on the whole acting thing started for me.
Of course then there was Student of the Year and its incredible success. How did it feel to have your debut film so well accepted?
It felt great! I think we knew it would be at the least special if not big or great because for the first time a big director in India is launching three new faces. Karan Johar is a big brand and seasoned actors want to work with him again and again and he chose us. I think we felt that, comparatively, we were luckier and there was something special with this film. So it feels great now but I feel now is the phase where we'll have to prove our metal, especially for somebody like me being from outside of the industry. I feel with Hasee Toh Phasee and The Villian with Mohit Suri, both these films come out this year, that I think this is my phase to prove my metal as an actor and not only as a performer. We owe it to Dharma Productions, we owe it to Karan Johar, we owe it to people to see our films because there's been so much hype and noise about SOTY everywhere. So as they say my entrance exam aka SOTY is passed, now I've got my first year examination with HTP.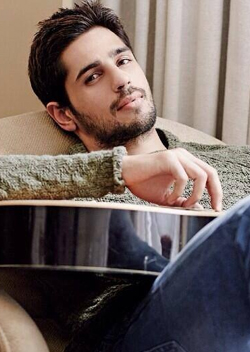 What made you decide to do Hasee Toh Phasee?
Hasee Toh Phasee came to me as a script and it is a comedy romantic film that had a lot of quirkiness written into it. What really sold me was when I met the director Vinil Matthew. He's a seasoned advertisement maker and he has a lot of experience with cameras and film. But I realized he, in a lot of ways, has a lot of quirk in him. We chatted for a long time, we discussed the film, we discussed the ideas and that was what really sold me. In my experience as an AD and what I've seen while making films the only person that makes sure the words on the script are translated into a good film is the director. So I really go with who is behind the camera helping me out. I was quite confident that Vinil will pull this off pretty well. I think we have a pretty good film in our hands. What was attractive also was that it had none of the glamour, none of the grandness, the loud styling of it, like I had in SOTY. There are no high speed shots with me entering on trains because I've done something like that. Not that there is anything wrong with doing that, but I feel like I came from that extreme you can't get more stylish and more cool than Dharma Production Karan Johar film and they are the best at it and I've done that. But for Hasee Toh Phasee the look is very different – it is a full de-glam look. There is no other option but to see our performances. We don't extravagant locations, we don't have huge sets, we don't have great costumes, we have maybe 10-12 changes in the film. So it was really exciting for me ke are yaar there is nothing for me but for me to be this character.
Tell us more about your character.
I am playing this boy who is slightly lost and doesn't know what to do with his life. He's not a typical hero. He doesn't always have the right answers. He is pressurized by his parents and his friends and girlfriends to do a particular kind of work. He is not so successful in running an event management company. So he is trying to make ends meet. People don't believe in him much in the film so he's not your typical hero. But at the same time he is very endearing and likable. Even though he is unsuccessful, even though he's not so the correct type who you will trust, he is very nice and he'll do the right thing, he is very committed and as the tagline says he's sentimental, very emotional as well. So it was an interesting character – very different from SOTY. I think this one is far more sweeter and likable for me because it was great fun. He has a lot of odd, quirky ways of behaving with Parineeti's character. Nikhil was very interesting to play.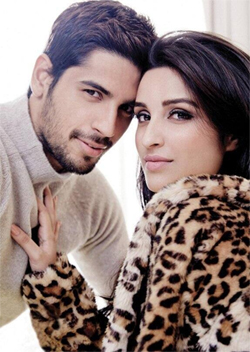 From the trailers and songs we have seen it seems like you and Parineeti really hit it off and had fun on this film.
Parineeti is a great energy to work with. We've all seen her perform well in front of the camera but she is equally a nice energy to have behind the camera. She's always in an up mood. I've never seen her in a bad mood, I've never seen her throw a fit, she's always about work, she's got me into a bit of a habit of rehearsing a lot, which I never used to like before. She has a very infectious laughter. She's got a great sense of humor. We've bonded on our upbringing and background. Both of us being from north of the industry, not from Bombay, both of us being Punjabis, so we've got a similar sense of humor. It was great because for this film we needed to have that comfort zone to do the funny quirky stuff together because the film is mostly about these two characters. Only me and Parineeti take you around all throughout the film in a journey of 7 days. So it was great to have her as a co-star with whom I could try and experiment. I think the energy translates on-screen as well, we share a great camaraderie and friendship off camera as well, so that shows. Whoever thought of getting me and her together was very intelligent and made the correct choice.
What are your favorite songs from the music?
For me I am quite lucky to have Vishal-Shekhar again after Disco Deewane in SOTY. I feel like I am connected to them. They've given equally commercial cinema here. We've divided the album into 3 romantic songs, 3 dancing numbers. So out of the romantic tracks recent favorite is 'Ishq Bulava'. Out of the dancing numbers my favorite would be 'Shake it like Shammi'.
Are you excited about the film release?
I am. In this film you will see a different side of me, you'll see more character in this film because that is what the film is all about. It is about these two characters and the journey that they have. I think Hasee Toh Phasee is a very exciting film. I am quite excited for the 7th of February.
Be sure to check out Hasee Toh Phasee in theaters today!