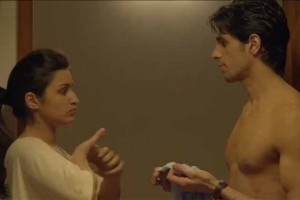 Sidharth Malhotra certainly has the looks to be a hero in Bollywood and you can bet he works hard to keep in perfect shape. However, that is not always easy! A fact he found out in his new film Hasee Toh Phasee.
A scene in the rom-com with a twist required the actor to go shirtless! To prepare the actor to worked out rigorously in order to obtain the toned, six-pack form that we see on the silver screen.
Not only that, Sidharth went on a two-week crash diet to get the desired look in the film. But seems his hard work and effort was not in vain because as soon as the scene was wrapped up, director Vinil Mathew treated Sidharth to a huge piece of cake!
Hasee Toh Phasee promises to be a romantic-comedy film with a difference. Set across Mumbai, over a decade, the film is about the relationship between the quirky, rebellious Meeta (Parineeti Chopra – Ishaqzaade), and the mischievous Nikhil (Sidharth Malhotra – Student Of The Year) struggling with their respective families to fit in. Nikhil bumps into Meeta on the occasion of her sister Deeksha's wedding, while Meeta is on the run. He falls in love with Meeta's sister Karishma on the same day.
In the midst of all the confusion that ultimately ensues, the truth about relationships is unfolded, the strength of unions is tested and love triumphs.
Celebrate this Valentine's season with the release of Dharma Productions must-see romantic comedy film of-the-year Hasee Toh Phasee, which releases on 7th February 2014 in the international markets through Reliance Entertainment.