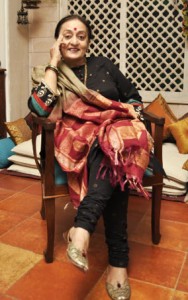 "Mere paas Ma hain!" This iconic line once defined an a whole age of cinema (mainly the 60s and 70s) which was dedicated to upholding the mother's wishes but is one which – according to actress Dolly Ahluwalia is deteriorating in this new era of film, where the focus is at times on the 'item' numbers of a film rather than the actual plot itself (Tees Maar Khan anyone?).
"There are not many roles for senior artists currently, and the significance of mother in present films is lost. The mothers of the 1960s used to play central characters but now we are losing that", Dolly stated in a recent interview.
Dolly Ahluwalia who recently starred in, Vicky Donor and Luv Shuv Tey Chicken Khurana, says that there are fewer roles for senior female artists nowadays.
The actress said that earlier roles for women used to be much stronger, but not anymore.
However Dolly calls this as a phase that will change with time. "I will not count this change as wrong thing but it is a phase which one is travelling through. It will keep changing," she added further.
Ahluwalia will be seen in the upcoming comedy/thriller film Bajatey Raho, which will release 26th July. The film is directed by Shashant Shah (of Chalo Dilli fame), and also stars Vinay Pathak, Ranvir Shorey, Tusshar Kapoor, Vishakha Singh and Ravi Kishan.
Elaborating on her character, Dolly revealed,  "I am playing one of the leads in the film and it was very enjoyable, refreshing and creative. It was entirely a different kind of film from what I have done earlier. Being an actor I enjoy everything. Surprisingly the kind of roles I did are of comedy. But this film is very different zone. I would love to do a serious film role as well."
As Dolly is also a costume designer – how does she balance it all, and did any film offers come her way? "I have balanced it till date. Initially I was given chances to be in films, but due to technical reasons, I could not shoot. I was little switched off as my insights said that I had limited years. There was no point waiting so I took up costume designing."
We hope there's more scope for our filmi Maa's in the future of Bollywood and hope Bajatey Raho does well. Check back to BollySpice for more masaledaar news!