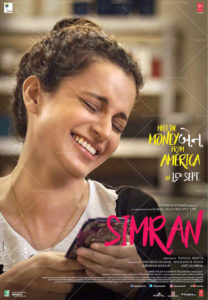 Kangana Ranaut's upcoming film Simran is already creating quite a buzz, and its full OST has recently released. The film has been directed by Hansal Mehta (Citylights, Aligarh) and portrays the unusual story of a Gujarati housekeeping lady based in the US, who gets bored with her routine life and explores her interests in gambling and stealing. The films soundtrack has been composed by Sachin-Jigar and has lyrics by their current favourite combination of Vayu and Priya Saraiya. Sachin-Jigar have been behind the music of a good few releases this year including A Gentleman, Bhoomi and more, so let's see what they have in store for us on the soundtrack of Simran!
The first track is Lagdi Hai Thaai and features Jonita Gandhi and indi-pop singer Guru Randhawa on the vocals. 'Lagdi Hai Thaai' is a happy, upbeat and almost folkish number, and this has also been represented in the promo of the song. Sachin-Jigar are almost guaranteed to give at least one of these kind of songs on their soundtracks, and so this is their offering for Simran. It is great to hear Jonita Gandhi ('Gilheriyaan', 'O Chandralekha') on the vocals of this masti filled track, and Guru Randhawa also delivers well.
The second track is Pinjra Tod Ke which is a solo track sung by Sunidhi Chauhan. We do not get to hear many solo artist songs these days, and so it almost feels like a rare treat to hear only Sunidhi on the vocals of this melodious track. 'Pinjra Tod Ke' is a song which explains Simran's feelings about life, and therefore ties the films story together. It is a lovely track and is sure to become popular given time.
The third track is Meet and has Arijit Singh on the vocals. There is also a female version of the song and it has been sung by Aditi Singh Sharma ('Dhoom Machade', 'Bekhudi', 'Raabta'). 'Meet' is Arijit's only track (also a solo one), and as always, he does not disappoint. It is the only song on the soundtrack which has a romantic angle to it. Aditi Singh Sharma croons the female version of the song, and her version is a delight to the ears.
The fourth track is the comic party number Single Rehne De which has been sung by Shalmali Kholgade and Divya Kumar. It feels like we are hearing Shalmali sing this type of song after a long time and she has done a fab job, along with Divya Kumar ('Jee Karda', 'Badlapur') who is also relatively new to singing in this kind of song genre.
The fifth track is the quirky title track Simran, which has been sung by the music composer Jigar Saraiya. On the Bhoomi soundtrack, we were treated to a solo by Sachin, and on the Simran soundtrack, we have been treated to a solo by Jigar! The title track explains the character of Simran and is also a very soothing track to listen to. Jigar has done a great job on the vocals, and the song has heart touching lyrics by Priya Saraiya.
Overall, the OST of Simran, is a simple yet meaningful one, and has the kind of melodies that will grow and stay with you even after you have watched the film. Sachin-Jigar have definitely displayed a sensitive and more mature side to their music on this OST. My picks ;Pinjra Tod Ke', 'Meet' (female version) and 'Simran'.