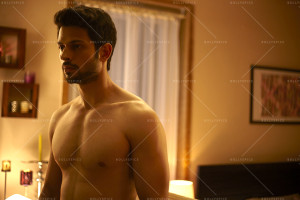 If you thought uploading your best pictures on your Facebook page was an utter waste of time, this story shall definitely change your mind. Buzz has it that actor Krishna Chaturvedi, who will be seen making his acting debut in Ishq Forever, bagged the lead role after producer Shabeer Boxwala saw him on Facebook!
Confirming the news, Boxwala said, "We had auditioned many actors for the lead role, but couldn't narrow down on any particular person. Finally, one fine day, I came across Krishna's profile on Facebook and immediately felt that this young man is my protagonist. As I have written the story myself, I had a certain image of the protagonist in my mind and Krishna fit it perfectly. So I messaged him and asked him to meet me for an audition and the rest, as they say, is history."
Produced by Ajay Shah, Harry Gandhi and Shabeer Boxwala under their banner Friday Cine Entertainment, Ishq Forever is a love story in the tradition of It Happened One Night, Jab We Met and Dil Hai Ki Manta Nahi where the boy and the girl meet on a journey that changes their lives. The film, which has been directed by Sameer Sippy, is slated to release on January 29.