Bollywood songstress and now newly turned actor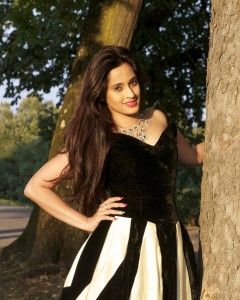 recently completed a hat-trick with composer AR Rahman. She began 2014 on a high note, bagging Kashmir Toursim's Music icon award for Imtiaz Ali's Highway for her song 'Heera' and now the singer with melodious voice has done two songs for Rahman's newest release Lekar Hum Deewana Dil.
Shweta sat down and answered our questions about working with maestro on LHDD and so much more! Check it out!
Tell us about what it is like to work with AR Rahman.
I've learnt everything from Rahman sir. I am thankful that he's been guiding me and I've been traveling the world with him for his concerts. He is like an ocean of talent, there is so much knowledge around. I've recorded with him now for Imtiaz Ali's Highway and Eros' Lekar Hum Deewana Dil. It's been 3 songs so it's a hat trick this year. Very humbled to be sharing stage with him and to be known as his prodigy.
You have sung two tracks for Lekar Hum Deewana Dil, first talk about 'Khalifa', you sound very different on this track!

It's my first rap song ever! Only someone as spontaneous and genius as Rahman
 sir could have turned a classically trained singer into a rapper overnight. It was a huge high working on this song. Rahman sir was working on it all night and I saw the song being composed. Arif Ali (director), Dinu (producer) Rahman sir, Amitabh (lyrics), Hriday (backing vocals) and I were in Sir's studio in Chennai. After loads of discussions, the song was finally being recorded at 4am. Let me say, it's not easy to rap at that time, it was a fun session and Sir kept laughing saying, he's gonna make sure I rap for the first time. I thought he was just trying it with the song but I was happy he's actually kept it.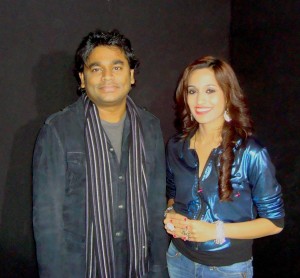 What is it like to record this with AR Rahman?
Rahman sir is a dream to work with. He gives me the toughest songs to sing on stage and even to record. He sings it himself and is very patient with his singers. He also makes sure we get it right. 'Heera' (Highway) was a more difficult song to record because the language was more Sanskrit and the expression was not a regular film song.
Then of course there is the lovely 'Beqasoor', what was your brief?
Rahman sir told me if I get the "beqasoor, bezubaan and belagaam" right then am the right singer for the song. I must say I got damn nervous when he specified this. That's all the brief he gave me.
'Beqasoor' is more the female solo and is very expressive and romantic. Its almost ghazal-like, with those depthful lyrics. I think it's one of Rahman sir's finest compositions in recent times, I am blessed to sing it.
Tell us about recording that track.
We recorded in Singapore on the day of a concert as the sun was rising. Sir was having breakfast and I was learning the song. It was a very challenging morning for me, because it's not an easy song to sing that early. But with Sir, it's a very blessed surrounding, he makes it very divine.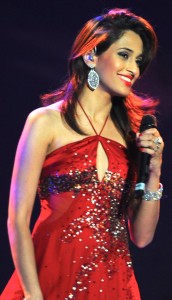 What did you love about singing that track?
The chord changes and harmonies he's arranged are the beauty of the song too. I love the cross lines which go… "jaane ye jalna, seekhe na bhujhna". It's so unexpected and beautiful, it stays with you!
How do you find your voice for the track, meaning the intonations, the emotions, etc.?

I just knew if I am chosen for the song, I am really blessed because it's quite a song for these times when female singers don't really get interesting songs except the item songs. Once I sang, I became one with the song!
People have loved that track, how does that feel?
I am very thankful to everyone. It was picked on the first day as the best track
 on the album and the full album was on no.1 on iTunes. That was quite a huge compliment. I hope people keep supporting my music like this. I've prayed and worked a lot for these times to come, so the adulation means a lot.
What do you think of the music of Lekar Hum Deewana Dil?
After a long time, a youthful album from Rahman sir has come up! So it's special. I think after almost 10 years since Jaanu Tu… and the music is outstanding. It's very commercial and will be liked a lot more once the film is watched by people. It goes amazingly well with the film. 'Mawali Qawali' is also another favorite of mine apart from 'Beqasoor' and 'Khalifa'.
You also had a fabulous concert for the music of the film, tell us about that experience.

The entire Kapoor family was there. Rishi Kapoor uncle and Neetu aunty gave me a big hug and said I was shining on stage. Coming from them, it's one of my best compliments. Imtiaz Ali said he loved 'Beqasoor' the most and my day was made. These people are very honest and they say it only when they mean it, so it's a massive compliment. But my biggest moment was when Rahman sir introduced me on stage and said I was an asset for his music and his live concerts, I wanted to pinch myself and cry when he said that on stage for me. He is such an amazing person to work with.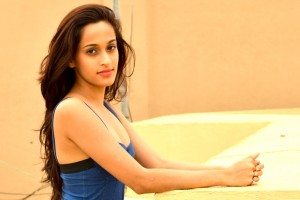 Are you excited to see the film?
Very excited. More so for Arif Ali (Imtiaz Ali's brother) who is an amazing person and am so happy to work with some of the finest people in the industry. The team is very positive and Armaan Jain is very hardworking. The promos look cool and it looks like a fun love story so I am gonna watch it.
What is it like to see the film and then see your song within the film's story?
It's very emotional. I remember the moments when the director narrates the scene and the story which leads to the song. To actually see it come alive is quite a high. Musically, I see the songs very carefully so I know if it's done well or not. 'Beqasoor' I've heard is placed very well in the film, so I hope people like it.
You were also on the Infinite Love Tour with Mr Rahman, what was that experience like?
We did two concerts in Singapore and Malaysia. The concerts are a great way to meet all the fans. So many people came to meet up and I made new friends too. I visited some amazing places. And also recorded 'Beqasoor' so it's actually a lot of work too. It's not really a holiday. Deepak Gattani is the creative director of these concerts and I learn a lot from him. Rahman sir's followers show up in lakhs. It's quite a sight and it's very moving to sing his classics on stage!
What else do you have going on musically?
I am working on three singles which I've composed and written, all different from each other and am very excited to put it out on my YouTube soon. There's also my first English single, it's called "I don't love you". It's a fun take on breakups. It will be out in a month.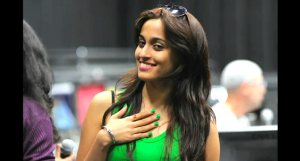 You also have done some acting, what will we see you in next?
I did David with Bejoy Nambiar, he's the one who believed in me to act and he's such a fab director. Then after getting good reviews, I got a call for 24 India with Anil Kapoor and Abhinay Deo (Delhi Belly) who were a dream to work with. Anil uncle called me the female Kishore Kumar when I did my first scene with him. It was very nice working with him. He's a very cool person to work with. I am listening to scripts and will take up something which is as special. Handling two professions is not an easy task, but I love being busy.