What one wouldn't give to have a debut album produced by the likes of Parichay and JoSH? What one wouldn't give to be able to perform live on stage with musical ambassadors of their time? What one wouldn't give to perform in front of prominent members of the Bollywood film fraternity? Well, Shweta Subram has done it all. Still reeling from a weekend of performances during the IIFA weekend in Toronto, Subram's debut single, 'Jee Le', will showcase yet another talented young lady on her way to superstardom no less. Here's a sneak peek into her life, complete with the magic of IIFA still doing wonders.
Tell us a little about your background in music.
My mum put me in singing classes which I wasn't keen on. At the age of five, all you want to do is play with your friends, not learn hardcore Carnatic music. I continued learning for many years and before I knew it, I began competing in competitions at school. I also learnt Hindustani music in India from well-renowned gurus. I very much love singing Bollywood songs too.
What was the experience of Star Voice of India like?
I was in Toronto competing in competition looking for singer to be sent to India. It was like a North American Indian Idol featuring participants from all over the US. I took part in the four-month long contest and eventually won it to compete in India. When in India, I also did fairly well. I came in top 10 and the producer of Star Voice of India contacted me to feature in an episode.
You recently performed at the IIFAs with Salim-Sulaiman. What was that like?
It was mind-blowing. For any singer, it's a great opportunity to work with two Bollywood maestros like them. They have given such great music to recent movies such as Fashion, Band Baaja Baraat, Rab Ne Bana Di Jodi. It was a pleasant surprise, and quick one that I ended up being in IIFAs. The week before, Salim-Sulaiman had come down to Toronto looking for a voice and when they heard me singing, they contacted me about a song to be sung from their forthcoming film Azaan. They wanted to do a set to perform at IIFAs in collaboration with a Canadian artist. They gave me the song the night before and asked me to sing it to them the next morning. I sang it in front of them and they signed me on at that minute. It was a great experience. Salim is someone I've established a great rapport with and it doesn't feel like he is a Music Director. We had a blast. Performing on stage like IIFA is fabulous especially when you're on stage and you see stars like Shah Rukh Khan, Arbaaz Khan and Malaika Arora Khan in the audience. What more could you ask for?
Yes, it must have been amazing to perfrom with Shah Rukh Khan sitting there.
I think my knees go weak when I see Shah Rukh Khan because I love him. I'm not from a Bollywood structure and I'm not die-hard fan of the genre but when it comes to him, I can go really weak. Performing in front of him was a challenge but I saw it as my opportunity to shine and I thought that if I get nervous then I will screw it up for myself. I wasn't nervous at all. I took ownership of the stage and had fabulous time.
As a singer who has recently released her first song and about to release an album, what would you say is your musical style?
It's very important that you have a style. As for me, it's tricky because I've learnt classical and been listening to Bollywood since I was a kid. I've also been exposed to religious side of my family with bhajans. It's as if all those styles have been meshed up into one. I would say I have Urban-Bollywood style right now but as you hear my songs you'll see there is versatility. You could picture most of my songs as Bollywood songs even though they aren't strictly from that genre.
I want to show my vocal skills. My debut song, Jee Le, has classical elements but didn't relay my vocal skills fully. It is a good song to have as a basis.
What else can we look forward to on your album?
I have other songs with Parichay and various other collaborations working on with other producers which I can't talk too much about. It will be worth the wait though. A lot of people would have heard of the people I'm working with and it will be a different sound.
What inspires you musically?
Honestly, when one writes a song, one thinks about their own life experiences. Jee Le is about my life talks and how I've always wanted to get into this path and had all kinds of people telling me different things. It's a bit like having Bollywood dreams. I would say always listen to your heart and do what you want to do.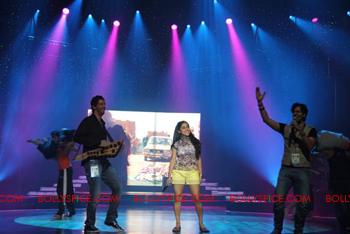 Can we look forward to you featuring in Bollywood soundtracks as a playback singer?
Well, that's the end goal and I want to do that in future. I think I'm a good step ahead what with my performance with Salim-Sulaiman and I've developed a good rapport with them. Salim said we should work together in the future. He said that he loved my voice and so I hope it happens!
How about acting in Bollywood? Would you be interested in that if offered something of the sort?
A lot of people have told me I should act and I say singing is full of acting as you've got to picture yourself in different situations for any given song. At the moment, I would like to concentrate on singing. Acting is a different ball game. When I've established myself as singer, I may venture into something else. I don't want to diversify myself just yet.
Who would you like to work with in the future?
I'd love to work with A R Rahman. He appreciates new talent and is a musical genius. Working with him would be a dream come true.
How would you personally define good music?
That's a difficult question! Today, music directors are experimenting with different sounds. For me, good music is when you can feel the beat and sound and immerse yourself in it completely. It's when it portrays your life and captures you completely. It can also be when you find yourself humming the songs and when a song is bothering you 24/7 – that's a sign for good music.
It certainly seems like the Urban Asian genre is becoming more mainstream and getting wider exposure. Do you think this is the case?
Undoubtedly, there are lots of new artists and more acceptances of Urban artists. There are lots of crossovers happening. Lady Gaga has worked with Salim-Sulaiman when they created a remix for her. They even created the FIFA World Cup song with Shakira. There is definitely a huge interest for artists to work together worldwide. Ultimately, music has no boundaries. I think there needs to be more of a push with new artists. Anyone can sing a Bollywood song and become instantly popular but what about those Urban artists in their basements creating their own sounds? People need to know about them too! I think more platforms are needed.
Pop music used to be popular in India but even those artists need to have the resources to push themselves. Only then do they have a chance to be heard. It can sometimes be shortlisting process. At the end of the day, directors also need to work with good artists so people shouldn't get too comfortable.
What can we expect from you in the future?
You can expect songs that you can relate to. In terms of my single, 'Jee Le', people said it's the story of my life and that's exactly what I want people to say. I think the songs that people can sing to and relate to is what I want my music to be. Live your life, Jee Le and your life is in your hands.
Well it seems if her debut single wasn't enough, the lady is sure to have made her mark by performing with Salim-Sulaiman. Her career seems full of promise and BollySpice can't wait to hear more from her very soon. In the mean time, do check out her new single, Jee Le!
With contributions by Stacey Yount and Amrita Tanna