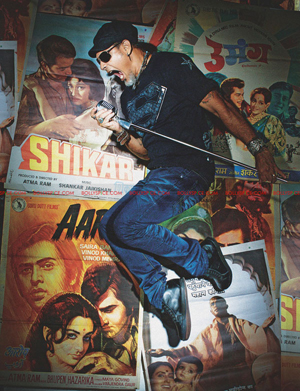 Suraj Jagan has become one of the most highly sought after singers in Bollywood, not only for his hard rock intonations, but for his smooth vocals as well. You have heard him sing songs ranging from the lovely, 'Give Me Some Sunshine', to the heavy metal 'Zehreeley' and everything in between. In 2011, he has been heard on the OSTs of some of the biggest movie hits including Delhi Belly and Zindagi Na Milegi Dobara. Along with his work in playback singing, Suraj also does concerts and other special projects. One of those projects is a solo album titled Back to My Future, and on this special set of songs the singer has taken nine classic Hindi film songs and re-imagined them as full fledged rock tracks. I caught up with Suraj and we chatted about Bollywood but more importantly I got the inside scoop about his new album!
Let's start with your most recent Bollywood hits. First tell me about 'Jaa Chudail' for Delhi Belly.
That recording was done two years ago. I never, never in my wildest dreams thought that it would ever make it to a Hindi movie because when we recorded it we were having a good laugh, the music director Ram Sampath and I, and he said then 'they might put it in a movie… I still don't know'. That was the first song that they recorded for the movie. I had great fun doing it. I even did an Axl Rose bit. You know there is one part where I sing, 'You know what you are' instead of 'where you are'. In 'Welcome to the Jungle' Axl does that so I just did that. Finally when I heard that it was going to be in the movie I was quiet shocked in fact. I had no clue how the movie was gonna be because the movie itself is quite radical to have for a Hindi movie. It was good fun.
Then there was one of my favorites 'Dil Dhadakne Do' from Zindagi Na Milegi Dobara… Tell us about working with Shankar Ehsaan and Loy.
That was one song that I knew was going to be in the movie. Recording with them is always fun. One thing about SEL is they always give me a very comfortable key for me to sing, which is great. Normally what happens over here is because of my rock singing and because of 'Zehreeley' that I sang for Rock On, people generally think that if there are any high parts to sing then let's get Suraj to sing that. It's not always comfortable for me to sing in those high registers. I mean, I can scream out stuff, but sometimes you have to get those subtle things in and on a high scale that becomes a challenge for me. Like for instance, 'Sadka Kiya' was one of those songs where it was quite difficult for me to reach those notes in the chorus. Whereas with SEL they always give me the key which is very comfortable for me whether it was 'Johnny Gaddar' or any of the songs that I've sung for them. They are friends so it's always fun to go and record with them.
In fact, out of all the songs that I've sung so far this was the first song that was promoted before the movie. Like for example, 'Give Me Some Sunshine' was not the song that was promoted before the movie. 'All Izz Well' and 'Zoobi Doobi' were the songs that were promoted big time on TV, on MTV and all those music channels. For a change it was good to see that one of my songs was being promoted in a movie and they promoted it big time. It was on some of the news channels too because they did this road trip right from Bombay to Delhi and throughout the road trip whenever they showed them going on the road they played this song. That was a plus for me–one step up.
What is your reaction when you hear your song in the film?
You never get used to it. I don't think anyone would get used to it. No, no, no! (laughs). It's always exciting every time you hear the song. I go to premieres when I'm invited, but I always go and watch the movie at the end with the audiences in a theatre. It's great fun to watch it with friends because they keep nudging when your song comes on the screen. That never gets old. You never tire of that excitement. I still get excited when I see that my song is on the big screen. It's quite unreal to see that. It's one thing when you record the album and you hear the final product. That I'm used to, but this is on a scale that I'm not used to. I still can't get used to the big scale the way movies are made and when you're hearing your voice on all those huge speakers being played on that big screen – it's like a dream for me.
Also the song in Shor in the City?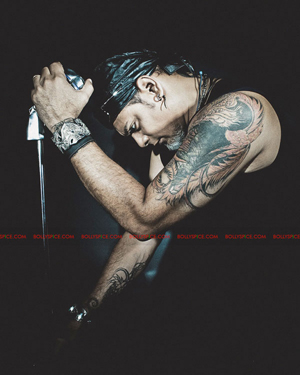 Yeah, that film is very Bombay. It's all about Bombay; you'll get to see the core and ugly side of Bombay. That's a good movie to see. That song was done with these new music directors, Sachin and Jigar, and they've just started doing songs of their own and they've had quite a few hits now. The song is 'Karma is a Bitch'. I had fun doing that. It's great when I get to do songs like this because for one thing it's easy for me to do and another thing is all the years of singing rock comes in handy you know when you have to get the right attitude for these kind of songs. It comes very naturally for me. I can say bitch better than most people over here. (Laughs)
You do quite the range of songs.
Yes, I do. I mean I love singing. It doesn't matter what it is. I've never had a problem with a genre as long as I can sing it because I hear a whole lot of different kinds of music. The only one I'm not really into is death metal and all the sub-genres of death metal. I just can't relate to that because I can't hear anyone singing; there's one guy growling and that's something I just can't relate to. Otherwise I like a whole lot of styles of singing. I love U2, I love Bono's singing. I've always loved the Beatles and there are so many non-rock bands that I like. Even pop bands, I like a lot of pop bands: Tears for Fears is one of my favorites. It's just that I'm very comfortable singing rock; for me rock is very therapeutic. It's a great release for me and when I scream my lungs out I feel very happy. It's more than singing for me. Hard rock is not just singing. It's the complete outlet for me. That's why I like doing that. That doesn't mean that I don't like the other kind, that I don't enjoy the other styles of music. As long as I can sing it I'm ok. I'm willing to do anything.
Let's talk your Solo album Back to My Future…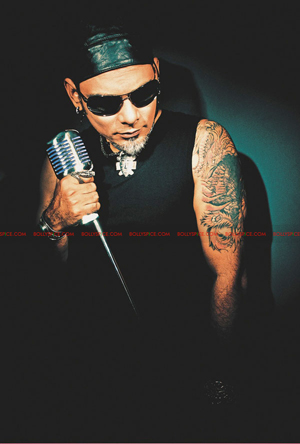 I've been thinking of doing this for quite a while now ever since I've started doing Hindi concert shows. I had actually done a few songs like this way back in 2000, but luckily those songs never came out because the record company shut down. It wouldn't have probably worked at that time because the Indian audiences were not used to listening to rock. Now after songs like 'Zehreeley' and 'Jaa Chudail', which is an extreme song but which has gone down really well with the crowd, I think it's a good time for me to do a rock album. It's a cover album. None of the songs are written by me. It's a complete cover album of old Hindi film songs. It's just arranged differently. I rocked it out, which is what I do when I play live. I don't do the songs how it was originally done, so a song like 'All Izz Well' is completely rocked out with distortion and everything. My whole show is a rock show because that's what I'm used to. So many years I've been doing that and I can't get away from that. That's what I've done with my album. I've put nine songs and I've just rocked out a whole lot of old Hindi songs. The rockers are gonna love it. The old timers are going to give me a lot of abuses, I guess. All those guys are going to have a field day cursing me. There are some people who just don't like change and people who don't want things to be touched. They feel that certain singers, certain music directors; those guys are like gods or whatever and you've gone and messed around with their compositions. I am sure there are people like that. I've met some. That is okay. That's their opinion. That's what they feel, and I can understand that and probably I would feel like that if somebody takes my song and does something to it, which I don't like. I can understand that. My intention was never to make fun of them or to try and improve it. It's not about improving a song. It's about my interpretation of that song and what I can do with the song. The kids would love it. I know it. And they will also go back and listen to the original. I know there's only a positive side to this. It goes down really well with the rock crowd.
How did you decide on which songs would go in the album?
Actually I had a list of 23 songs but when I had to choose from the 23 the problem came with the question of copyrights and buying up the songs. That was a block for me. I did not know what to do or how to go about it. Then Saregama called me up. It just a coincidence. He said, 'Are you interested in doing something like this?' I had just complied my list and started the whole process. So it was right timing. They wanted to do one song and I said why don't we do an entire album? They have the biggest catalog, the oldest catalogue. They've got more songs than any other record company here. It worked out well. I had to just choose from their catalogue and did those nine songs.
Let's talk about each track. I love 'Pehla Nasha'
Yeah, that's the acoustic one. That, in fact, is one of the most downloaded songs in India. It's one of the most popular songs. It's a great song. I love that song so I just did it in an acoustic way.
'Rang Barse'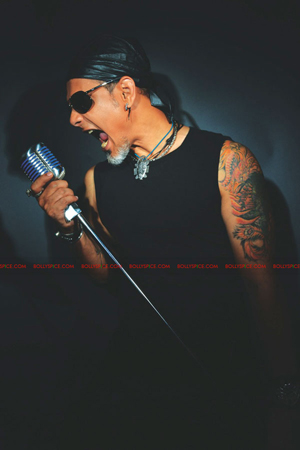 'Rang Barse' is a song where I've actually shot video for it. It's the darkest song in the album. It was a last moment addition to the album. I had another song in mind, but somehow that song wasn't working out. So I had to choose another song. I chose this song and as I was watching the original film, (It's from a movie called Silsila) and the scene of the song is about the Holi festival. But actually what's happening in the scene is Amitabh Bachchan is having an affair with this other guy's wife and he's flirting with her right in front of his own wife and this other guy played by Sanjeev Kumar. There is a lot of tension in this song. Amitabh is drunk and he's just singing away and he's just flirting with this girl played by Rekha. I saw the song as even though it was a happy kind of situation and a happy kind of song, the theme does not depict that. There is a lot of darkness happening, even though it's all fun and things like that. That's the vibe that I got from watching and that's what translated into my version. It came out as a very dark song.
'Chura Liya'
This is one of my all time favorite songs. I have always wanted to do a stripped down version. When I recorded the song I realized that there is a sense of melancholy that has come through in the acoustic version
'Dum Maaro Dum'
'Dum Maaro Dum' basically means smoking a joint, so when the song was done it was about the hippies in India and the song's portrayed like that. There are a whole lot of hippies and they are all smoking and it's all about: "We don't care about the world. We don't care what the world says and nobody else has done us anything and why should we care about anything" and just 'Dum maaro dum' just smoke away. This song needed that vibe to it, I mean there's a lot of sadness in the lyrics of the song because these are people who are generally shunned by society and they don't mean any harm but just because they look different and just because they are about peace and love and whatever they are generally looked down upon. I wanted to get that in my version of the song. The way I've sung it I hope it comes across like that. It's got a little bit of that sad touch to it.
'Rafta Rafta'
This song's got a very naughty, mischievous vibe to it, which is why it easily translates into the rock genre. It's got tons of attitude and a rawness that I love.
'Junglee'
In fact, when I heard 'Junglee' I always thought this would be a rock song you know. It's got all the ingredients for a rock song. It's got that madness to it, it's got the way it's been sung and it's got all the 'yahoo!' and screaming and all that. It's just that it's not an out and out rock singer who's sung it. I felt like I could turn it around and make it into a rock song. Junglee was a really simple choice for me.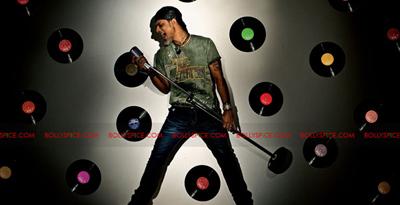 'Aja Aaja'
My initial idea was to make this into an out-n-out blues song, but the more I heard the original the more I felt that it needed to get more aggressive. So in the end, this one turned to be the hardest rock song in the album.
'Mere Sapnon Ki Rani'
'Rang Barse' and 'Sapnon ki Rani' were two last moment additions. I had another song in mind and it wasn't working out. So I said let's try something with 'Sapno Ki Rani'. It worked out well. The song is a very happy song and the way it's being portrayed is that Rajesh Khanna is in a jeep and he's travelling next to a train and Sharmila Tagore is sitting in the train and he's trying to woo her and all that. But the way I've sung it it's more like a serial killer singing it, you know (laughs). So it's like you know 'the girl of my dreams' that's what it means 'mere sapnon ki rani'. So I've twisted it around and made it into the same thing but a different guy singing it.
'Dekha Na'
'Dekha Na' is a song, which I've been doing live. I've been playing my own version of that song for quite a while ever since I've started doing my Hindi shows. That was an easy choice for me. That again sounds like a very happy song but if you see the movie there's this guy who's chasing a killer and you know all that is happening in the song. Actually I didn't get that into the song. I just made it into a rock song. I didn't really get that vibe into the song. It's just a plain out and out rock song.
Your favorite song out of all of them?
'Rang Barse'
Will be doing live shows/a tour for the album?
I am…the thing is it doesn't really work like that here. It's not like the record companies finance it or anything. Basically I've done the entire thing on my own and given it to them. They are marketing and distributing it. But the thing is here the season of shows has started. In fact I'm going to Calcutta to play a show and I've got a show in Gujarat. I've already played a show in Bombay. Right from September right up to March there will be shows. As long as you're known you get shows and this just adds to it. I mean for me people will have something more to listen to rather than just the songs I'm singing for films.
What are audiences/fans going to love about this album?
I think just the fact that these songs have been converted into rock songs is very exciting for a lot of people. Like I told you even last time rock in India has had a niche audience so far and now suddenly it's gone on to the masses thanks to the film industry. But for many it's a new form of music and a lot of people are completely excited about it when they hear songs being done like this. They are experiencing the rock energy for the first time like this and that's what excites me the most to see that.
The album is available for digital purchase here!