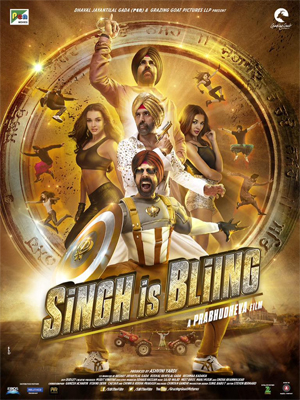 By the time Prabhudheva and his rumbustious hero get into the swing of things in colour co-ordinated turbans, the film is so far gone you can't tell your head from your…well, you know that part of you which swings the most when Akshay and the Bhangra revellers go Tunn tung baaje?
The wonders of spoken word are infinite. The word for the human posterior in English and for 'hope' in Urdu is similar-sounding. Not surprisingly Akshay kicks off a kick-ass affair with a sassy belligerent girl played with cuddly cuteness by Amy Jackson, who can knock off a few bones on her own without masculine help, shukriya.
There is an element of disarming innocence in Akshay's goofy-grinned avatar even when he leers at Amy emerging out of the water.
For my money and time, Akshay Kumar is the hero with the best coming timing on this side of Kishore Kumar. This time he meets his match in Lara Dutta who, as a wacked-out Hindi-English translator, brings a bewitching bite to the tale of a Sikh wastrel who sets off on a mission to win over his disapproving father (Yograj Singh). After watching her crazy antics in this film I want to see Lara doing an Akshay Kumar in her own comedy film.
The Crazy Adventures Of Raftaar Singh are too…well, crazy to go into. Suffice it to say Akshay's enjoyment in penetrating and possessing Raftaar's chaotic world reaches down to us with fluent and virile effortlessness.
Many of the plot's movements don't make sense. But then we are not here to judge Raftaar's chaotic cosmos. Or are we to here to partake of the protagonist's restless energy which leaves him the master of unfinished jobs? Make up your mind.
Singh Is Bling scatters its unbridled energy any which way that Akshay's Raftaar Singh takes it, and then gathers its wits in time for a well-timed rounding-off. There is a brisk momentum to the goings-on, bolstered by Akshay's unimpeachable comic timing. Prabhudheva directs with a flexible fluency. The pandemonium scampers across the plot without trampling over the highpoints, namely Akshay's corny courtship of amiable Amy and his warmly delineated moments with his screen-mom Rati Agnihotri.
The bad boys, led by the accomplished Kay Kay Menon (here at sea in a swarm of satirical silliness), are shown to be hugely unequal to the sheer velocity of Raftaar Singh's healing powers.
For that infectious grin that lights up the screen every time Akshay's Raftaar is happy – and he is happy most of the time — Singh Is Bling is worth a dekko. Rowdier than Rathod, Akshay's Raftaar Singh is gloriously goofy and a great deal of fun to watch. Never mind the logistics. The fun never wanes.
Rating: *** ½