Looks like superstar and acting maestro Ajay Devgn's aka Singham's brave and fearless attitude goes back all the way to his childhood!!
The Bollywood superstar had accompanied his father, action-director Veeru Devgan, to the Big B film Mr Natwarlal's set and the entire unit couldn't keep him away from a leopard cub on the sets. Even during his childhood years and long before he decided to become an actor, he was always drawn to wild cats, looking at this photograph!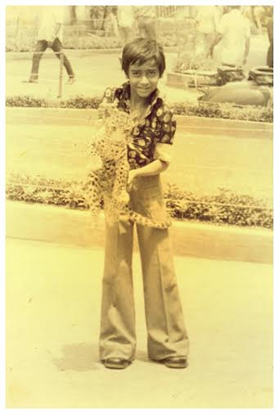 We guess this memorable incident must have sparked off the actor's concern towards the conservation of tigers and the preservation of endangered cat species which is common knowledge in the industry.
The actor is popularly called Singham wherever he goes specially by kids, thanks to the cult status the 2011 blockbuster hit had achieved post its release. With Singham Returns coming up soon for release, we were all set to see more of the 'lion' roar again as the days go by!!