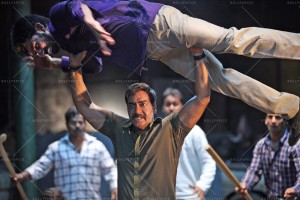 The mighty Independence Day offering from the blockbuster duo Ajay Devgn – Rohit Shetty, Singham Returns has thunderously roared at the Box Office!
The action drama which opened to an bumper figure of Rs. 32.09 Crore on Day 1 making it Bollywood's highest opener ever and collecting Rs. 77.69 Crores in the weekend. The film has successfully bagged a staggering figure of Rs. 14.78 Crores on Day 4- Monday taking the collections of the film to Rs. 92.47 Crores in just 4 days!!
One of the most talked about films this year, Singham Returns has won critical as well as audience acclaim who have been queuing up to catch the movies at the cinema. Singham Returns has already crossed Rs 50 Crore collection in just 2 days, which makes it one of the fastest films to achieve this feat.
The Independence Day release has given the country a movie touched with patriotic and national flavor and highlighting the life of its civilians, a perfect family outing at the cinema celebrating 68 years of freedom!
Rohit Shetty has always entertained us with his films and he is back again taking the franchise several notches higher in every aspect of film making!
Well, the verdict is out!! A gripping story, high octane action, power packed performances by the cinema icons of the country and foot tapping music complemented with memorably cult dialogues, Singham Returns is the film to watch… Book your tickets now!!
Singham Returns is produced by Ajay Devgn Ffilms, Rohit Shetty Productions and Reliance Entertainment.
Total Collection Break Up: Day 4
| | | |
| --- | --- | --- |
| Sr. No | City | Day 3 |
| 1 | Mumbai |  6.95 Crore |
| 2 | Delhi |  2.57 Crore |
| 3 | Punjab |  1.18 Crore |
| 4 | Mysore |  0.27 Crore |
| 5 | West Bengal |  0.27 Crore |
| 6 | Rajasthan |  0.74 Crore |
| 7 | Nizam |  0.57 Crore |
| 8 | TNK |  0.10 Crore |
| 9 | CP |  0.90 Crore |
| 10 | CI |  0.61 Crore |
| 11 | Bihar |  0.35 Crore |
| 12 | Assam |  0.8 Crore |
| 13 | Orrisa |  0.10 Crore |
| 14 | Nepal |  0.7 Crore |
| | TOTAL | 14.78 Crore |
Total Collection Break Up: Day 3
| | | |
| --- | --- | --- |
| Sr. No | City | Day 3 |
| 1 | Mumbai | 10.35 Crore |
| 2 | Delhi |  3.81 Crore |
| 3 | Punjab |  2 Crore |
| 4 | Mysore |  0.85 Crore |
| 5 | West Bengal |  0.75 Crore |
| 6 | Rajasthan |  1.58 Crore |
| 7 | Nizam |  1.21 Crore |
| 8 | TNK |  0.20 Crore |
| 9 | CP |  1.59 Crore |
| 10 | CI |  1 Crore |
| 11 | Bihar |  0.58 Crore |
| 12 | Assam |  0.21 Crore |
| 13 | Orrisa |  0.24 Crore |
| 14 | Nepal |  0.18 Crore |
| | TOTAL |  24.55 Crore |