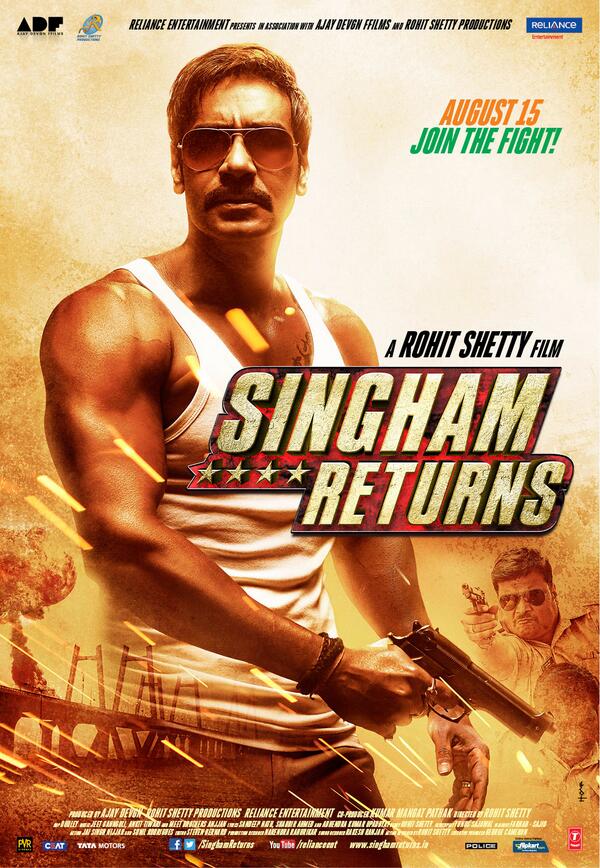 Make no mistake when you walk into the second instalment of a Rohit Shetty-Ajay Devgan combo film, there is no room for any arty cinematic moments. Singham Returns is a reiteration of the Blockbuster hit film, Singham. Thankfully this one stays away from the remake category unlike the first one. So with cars to blow, Kareena to beautify the screen and Ajay to go all 'Ataa Maaji Satakli' on the baddies, lets step into the story realm.
Bajiao Singham (Devgan) is back with his ferocious attitude and walks into Mumbai, the city that never sleeps. Politics, power and prayers to the local Baba rule the roost. So naturally things wont stay the same, now that Singham is around. With Guruji (Anupam Kher) leading the social awareness aspect and bringing forth a younger generation of promising politicians into his party, feathers are ruffled for the bad guys. Unknown to them, what begins as election hype turns into an all out war between the police force and the politicians when one of Singham's subordinates dies and gets accused of corruption.
Do I need to explain how good Ajay Devgan is at action. I mean, come on. Lineage somebody! But what we do miss is flow of delivery. Somehow Ajay brings out the punch only in his fist and loses it with his words. Kareena Kapoor Khan gets a chance to play a pretty young thing but for those who loved Geet, her act is just repetitive. Giggles for the selfie moments and the reporter bashing but unfortunately, the Lady Singham is a shadow of her former self. Amol Gupte is plain boring and a rather loud Babaji. Zakir Hussain brings nothing new to the corrupt politician role we have seen a million times over. It was nice to see Dayanand Shetty on screen after a break and stepping side by side with Ajay too. Anupam Kher and Sharat Saxena are competent in roles they have been seen in before.
Now comes the other side of things. Dudley with the cinematography and Steven Bernard with the editing work their magic and keep things under wraps with a decent job but there's only so much of cars and people flying you can see. Music by Jeet Ganguli, Meet Bros Anjan, Ankit Tiwari and Yo Yo Honey Singh is a cocktail of disappointment, with Yo Yo Honey Singh rehashing 'Lungi Dance' with 'Ataa Maaji Satakli.' The story is never going to take the forefront in a Rohit Shetty film (he also wrote the story) but Yunus Sajawal and Sajid-Farhad could have given just that extra bit of oomph to a masaledaar rampage, had the screenplay and writing been handled differently. Packing the action is a superb case to find the big fat holes in the umpteenth time told story with dragged out dialogues doesn't help anyone.
You can blow up a million sumos, picturise ever fighting scene with real lions and scream "Now I've lost it" in every language you can muster. At the end of Independence Day, its Bajirao Singham action that will do the Koli dance to the box office tune. Not the critics.