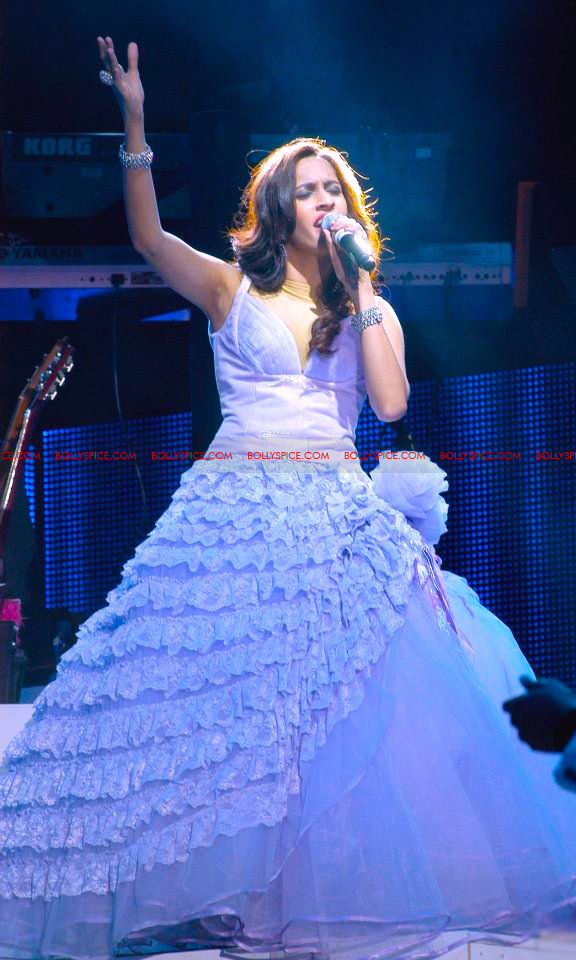 She hails from a musical dynasty family and says that she feels she was always meant to be a singer. Her first big break was at age 12 when she sang for the OST of Mohabbatein and from then on she has worked with some of the best music directors both in the Hindi and South film industries. Not only recording for the films as a playback singer, she is also the lead singer on AR Rahman's world tour. We are talking about the fabulous Shweta Pandit. She has been the voice on some hit tunes and most recently you have heard her wonderful vocals on the Mere Brother Ki Dulhan soundtrack on both 'Madhubala' and 'Do Dhaari Talwaar' and 'Thug Le' from Ladies Vs Ricky Bahl. Stacey got the exciting opportunity to quiz her on many different aspects about being a singer in the film industry and boy did Shweta give us some fabulous and in-depth answers! Check out what she told us in this exclusive interview!
Have you always wanted to be a singer?
I think my destiny to become a singer was more pre-decided by God, because I was born in a family filled with classical singers, composers, artists, not even a single person in my family is un-musical.
As you said, you come from a family of singers and musicians, how have they influenced and inspired you?
My biggest inspiration in music is my grandfather and guru Pandit Pratap Narayan-ji (elder brother of Pandit Jasraj-ji) I belong to a family of great music maestros and am the 4th generation. It's a huge blessing. My sister, Shraddha Pandit, comes a close 2nd for inspiration as she started learning Hindustani classical music as a child. I would hear her training and my jaw would drop each time she would pick up a difficult part that my granddad sang. The training is one of the most difficult yet fulfilling aspects of a musician.
As a playback singer and complete artist, my biggest inspiration is Lata Mangeshkar-ji.
You sang at age 12 for Mohabbatein, tell us what you remember of that experience.
I am emotionally attached to this film. I got to sing in the same film as Lata-ji, seeing my name appear as a lead vocalist alongside hers in the same inlay cover, I just ran to the temple to thank God for this blessing. It's very rare and never does it happen at age 12. I got to work with Aditya Chopra, my favorite director, have seen DDLJ more than 300 times, I guess. Anand Bakshi-ji, one of our legendary lyric writers, I got his blessing. Working with Yash Chopra-ji, Amitabh Bachchan and SRK in the same film, this film had the best team ever.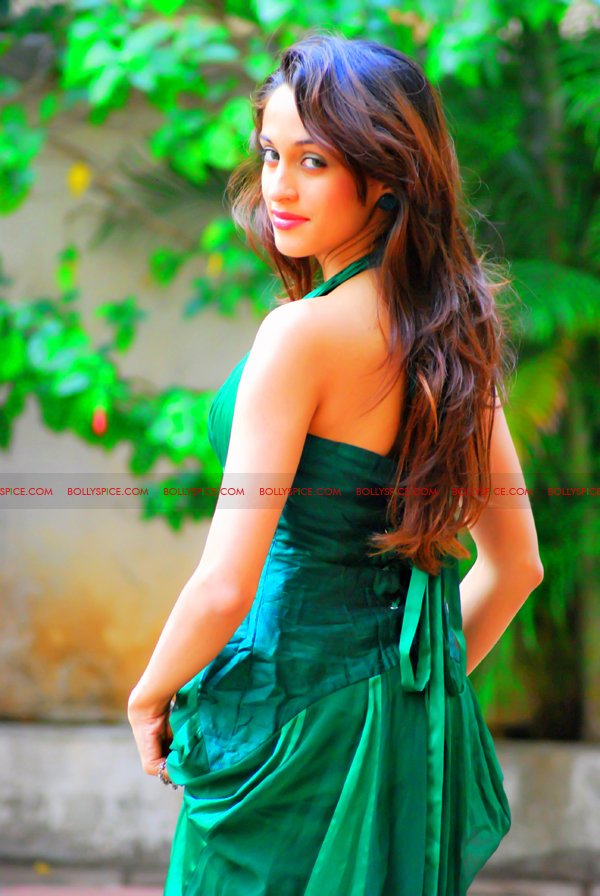 Tell us about your journey in Bollywood after that.
Most people think Bollywood is glamorous and a very easy lifestyle and people who work here make it easy. Well, you may find a few examples like that but not all. If you look closely, the real legends in Bollywood are all self-made. They all have had a tough run and many downfalls when people have even laughed at them. But they bounce back purely on real talent. Amitabh Bachchan, Dilip Kumar, RD Burman, AR Rahman and so many people who are the real talents are examples of absolutely no back up, but have done legendary work. For me, because I come from a family, people think it's easy, but it's actually more difficult for me to make it than a singer from a small town, that's because I have a huge family baggage and people have so many preconceived notions even before working with me. They judge me even before meeting me. It's not just glam but hours of hard work, no sleep, tedious traveling schedules and no time for your friends and family sometimes. It's a profession that demands 24 hours of your focus.
If someone were to ask you to describe Hindi film music what would you say?
Hindi film music has changing trends, but primarily they fit into the pop bracket. Good groves, rhythms, basic melody and music arrangements. If people go beyond this basic description, they can create a classic soundtrack for a film. That's one of the reasons why AR Rahman sir stands out today, because he adds his own touch to it, which hits you somewhere – be it melody or his orchestration. Every composer has his own style and am sure they experiment with their compositions, singers and arrangements to sound different from their previous release. It's a lot of handwork to compose for a film as you are making music for characters and situations, which appeals to the entire audience.
You have worked with some great music directors: Can you tell us about working with: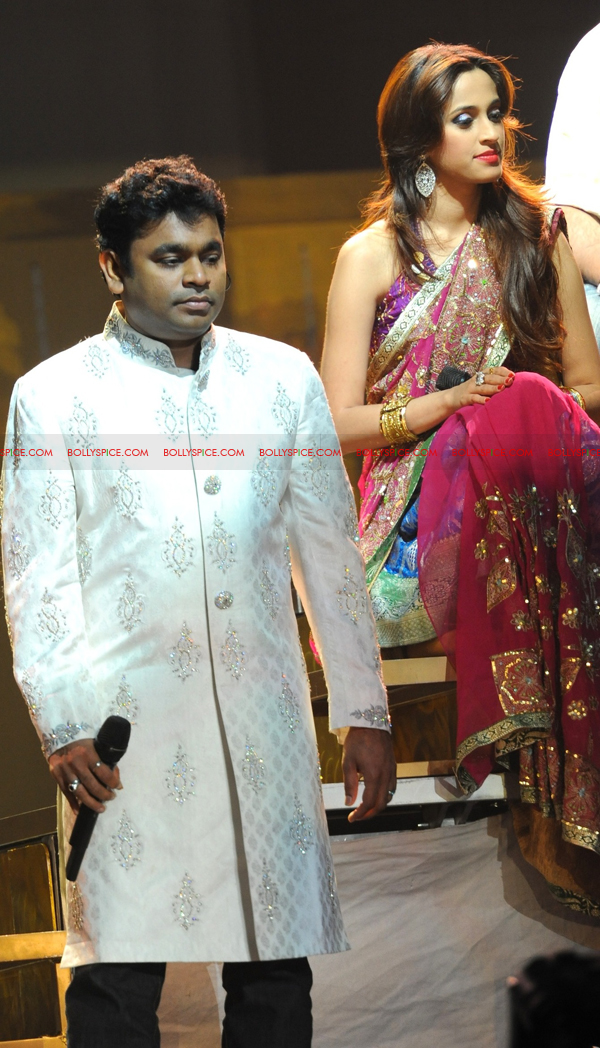 AR Rahman
I have learnt a lot from Rahman sir. I am blessed to have traveled the world with him, every possible country: USA, Canada, South Africa, Australia, Dubai, Muscat, London, Europe, Singapore – you name it and we've been there. One of the greatest things about him is that he's untouched and so real even after achieving so much. Most people become fake and pretend to be God, but he's ever so humble. He's almost like he wants to start learning all over again. He's an institution of music. One of the reasons I think he has achieved so much, apart from his talent is this nature of his. He's always told me, "If we really feel it and sing and you will sing it very well". Simple words but make a huge difference.
Vishal-Shekhar
They are super fun. Both of them have a serious and a crazy side to them. The compositions are brilliant. And they have an outstanding classical and Sufi music sense apart from commercial Bollywood. Performing with them is like a big party happening on stage.
Shankar-Ehsaan-Loy
Do you know after Mohabbatein, they are the first composers to call me? Nayee Padosan, Rudraksh, Kabhi Alvida Na Kehna are some of the work I've done with them. All three are unbelievably talented. And the best part is all three come from different styles and schools of music and when it's combined, it's just magic. I love singing their songs. There is lots of soul and repetitive value in their music for singing and listening both.
Sajid Wajid
I'd say they hit jackpot when it comes to some real Bollywood commercial hits and masala songs. No one beats them. Their grooves and tunes are so rooted and hit you instantly. It comes naturally to them. They both are my brothers as I've grown up in front of them; they heard me sing, when I was like 3-4 years old. They've been best friends with my brother since then. So it's like one mad musical gang they've had since college. I worked with them on Partner, 'Your My Love' was an instant hit.
Salim Sulaiman
Extremely talented brothers! I've learnt so much from them. They were arrangers earlier and I always was amazed how quickly they would give life and sound to a song and a mere vision of a director and composer. They are so blessed. They are also the fastest team I've worked with. They are workaholics and I've had the blessing to sing for them in Neal n Nikki, Ladies vs Ricky Bahl and some more upcoming projects. They have a unique sound and style. Love their music, very heart-touching.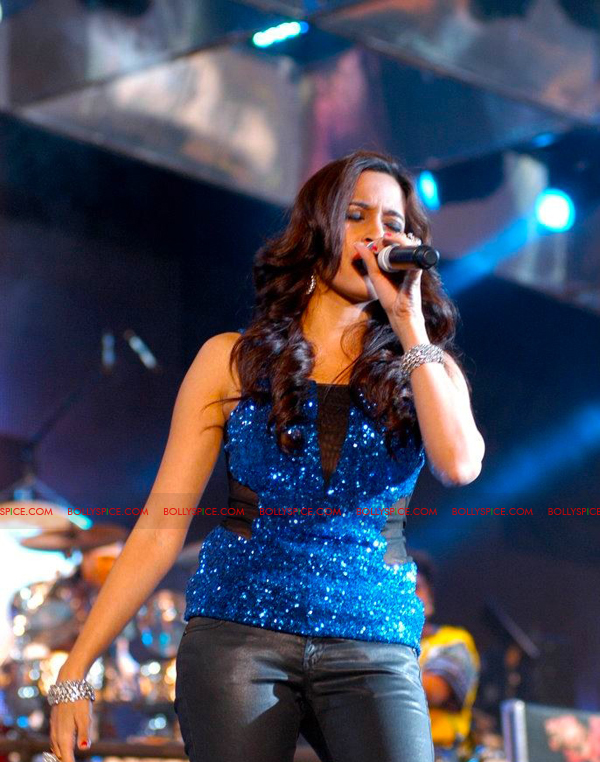 Sohail Sen
Sohail is one the biggest new talents to watch out for. He's so talented and hard working. Very good composer. Worked with him on two songs for Mere Brother Ki Dulhan. One of the reasons I also respect Sohail a lot, is that he being a new composer himself, doing his first film for Yash Raj, he could have got the biggest singers to sing for MBDK, he could have chosen a safer path so that people would instantly grab the music, wanting to hear their favorite popular singers, but he chose the tougher path and worked with new singers and me as well, that too for 2 important songs in the film, 'Madhubala' and 'Do Dhaari Talwar', and the result … one of the biggest blockbuster soundtracks of 2011. He really proved that it's not about big names, but your work that speaks. And it's truly commendable to take that decision at such an early stage of your career, when many who have done over 20-30 films are still trying to walk the safer path. Really respect Sohail a lot for this. He's also from a family of great talented musicians so we go back a long way!
Pritam
Pritam is the funniest and the coolest composer. We crack jokes a lot while working. He also is a multi taskmaster so sometimes it's hard to get hold of him, but when we do it's pure fun working. I worked with him on Fightclub and Tell Me O Khuda. I love his melodies more than his party songs sometimes and I tell him so, but he's immensely talented and gifted.
You have done so many fabulous songs; do you have a favorite song you have sung so far?
I don't really look back very often on my own work. But on Twitter, the responses I get – I think my work in the South, Tamil and Telegu are more refined and show more talent than the songs that I've gotten so far in Bollywood. I also won my first Filmfare award for a Telegu song in Kotha Bangaru Lokam, which is a hugely popular film and music. Bollywood is more of a herd mentality, but in the South, you get work if you're good at it. Maybe that's why when I play my work in the South, it's more like, 'OMG you're so under-rated in Bollywood'. And I do believe that somewhere, but am sure when you work hard, someday your talent is acknowledged.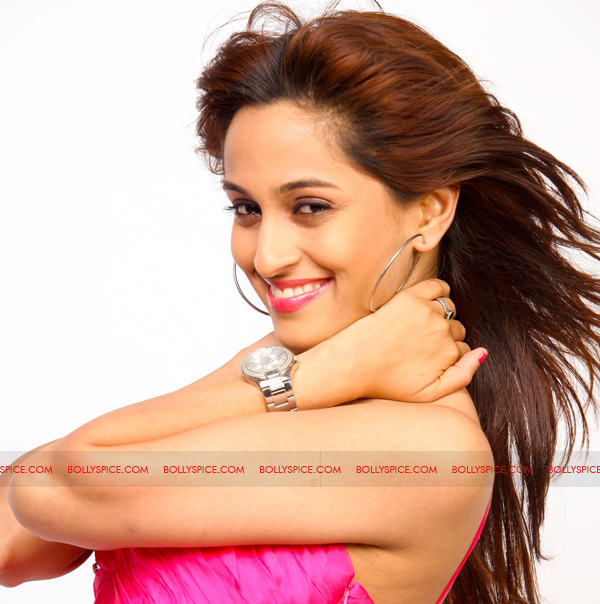 Some of your favorite singers?
Lata Mangeshkar, Asha Bhosle, Kishore Kumar, Mohammad Rafi, Mariah Carey, Celine Dion, Whitney Huston, RD Burman, AR Rahman, Sonu Nigam, Kumar Sanu are the singers I listen and learn from a lot.
What do you love about singing?
There are times when you have to use the power of every possible molecule in the body to hit a high-pitched note. It's also a very delicate machine inside and it has to be nurtured and cared for like a plant that needs to grow. Tremendous amount of patience and learning goes into it. Singing has made me grow into a better person. It keeps you more real and honest and also keeps you connected to divinity and makes you thank God constantly. It's a very spiritually driven profession because your entire system is running on a blessing from Almighty. It's meditation, it's yoga, it's all combined into one. It's one of the best professions to be in on this planet and I thank God I can sing in this lifetime. I think I am born for it because I have been singing since I was 4 years old.
What do you love about singing live?
The audience energy and connection. It's so high in levels. I love performing live, the stage is my home!
Your favorite style to sing?
I love being versatile. I've been told by my guru since I was a kid, that if you can't sing every style, I won't even consider you a singer – even if you are brilliant in one style! He was very firm to make me versatile.
Your personal favorite song?
I love Indian classical music, so anything that I based on a raga, I love it.
What music do you listen to?
Mostly Indian classical and old Hindi film songs. I listen to the new songs too and I love music from the west too. So YouTube it is!
You have worked in both the Hindi and the South film industries, is there a difference in the way they work? What about in the music?
Huge difference yet similar in many ways!
What inspires you and your vocals?
Good tune, a good microphone and sound that is of utmost importance.
Do you see yourself as a music director one day?
I do write and compose, haven't thought about it though. But I think my sister, Shraddha Pandit is a way better composer and writer than I am!
When you go into the studio to record how do you prepare?
Everyday is a different day. I don't have a fixed way to prepare. The song's energy and composer's thought adds to it to start with and then I go with the flow.
Tell us about recording a song from first getting the offer to finally going into the studio. How does that process work?
Well, we get a call to come to the studio and then given the lyrics and tune, then the notes are worked on and then we go on the mike to start recording. It's a beautiful process. Must be witnessed more than read 😉 One can learn a lot when a song is recorded, only if they have tremendous patience to wait though! haha..
What's it like to see the final product of your songs in the films?
Most times, I feel I sound unreal when I leave the studio. I feel so good and happy. Later when I hear the song, I feel I could have done better and added more stuff. That's always the case! So you end up being an unsatisfied student all your life.
Do you feel playback singers get the credit they deserve?
I think only a few do. But I feel playback singers in general should be treated much better than they do. It's only if you are a music TV star, that people go crazy, but then I guess, the common man has always been this way! They don't know how to judge talent over the face value. So I guess we'll have to wait for time to make changes. haha..
What do you think of Hindi film music today?
I think it's too largely driven by herd mentality and extremism. Either they launch complete new voices or few faces or can't think of working with anyone except the famous ones. There has to be a good balance. More melody needs to be promoted than just item songs to make the film look hot.
I just saw you sung the title song for Joker; can you give us a sneak peek about that song?
It's a duet with Sonu Nigam and a fun song with the entire cast of the film.. It's a huge song since it's the title track called 'Ye Joker Aisa Pantar' shot on Akshay Kumar and Sonakshi.
What do you have coming up?
Chaar Din Ki Chandni (Sandesh Shandilya), Raakh (MM Kreem), Joker (GV Prakash), Billa 2 (Tamil) (Yuvan Shankar Raja) some more Telegu films will all release together by April.
See, we told you fabulous answers! We would like to thank Swheta for taking the time out to answers them and to say we wish her all the best for the future. Can't wait to hear what she sings for us next!