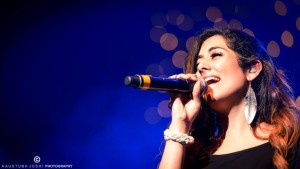 If you love your Bollywood music and have been following its trends via YouTube, you may have seen a couple of popular song covers from upcoming singer Jonita Gandhi. Jonita is an Indo-Canadian singer who is known for her effortless singing style and her popular collaborations with the online music group '88 Keys to Euphoria'. Some of Jonita's most famous covers include 'Someone Like You/Yaariyan' and 'Tum Hi Ho' (
Aashiqui 2
) (which also features Aaksash Gandhi and brothers Sanam and Samar Puri).
When it comes to Bollywood, Jonita debuted in the world of playback singing with the title track of Chennai Express followed by songs in Highway and Lekar Hum Deewana Dil.
There is lots more for us to hear from this talented singer, and she will be performing with singer Ash King on
Sunday 22nd November 2015
at London's Eventim Apollo as part of a melodious concert that celebrates 50 glorious years of Bollywood through song and dance!
Jonita was in London recently, as she performed with Sonu Nigam in the 'Klose to my Heart' concert at Wembley Arena. I was fortunate enough to have a catch up with her for BollySpice, where she gave us a bit more detail about the upcoming 'Absolute Bollywood' concert that she will be a part of, and also shared with us her tips on producing the best YouTube covers and more!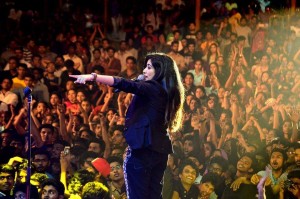 How has your journey as a singer been so far, from recording YouTube videos to performing live with esteemed artists like Sonu Nigam & ARR?
JG: Its been really fun! An incredible learning experience and I hope that it is just the beginning!
You received immense popularity from your collaborations with '88 Keys to Euphoria'. Are you fully focused on singing in Bollywood now, or will there be anymore collaborations in the future? 
JG: I am more focused definitely on Bollywood, performing and getting out my own songs but I I do want to continue doing collaborations and covers; I am doing that and will continue as that is the way I kinda started and I accumulated fans through my covers so I won't forget to keep doing them.
You recently collaborated with Arjun Artist on the track 'Tujhe Bhula Diya' with TSeries. How was the experience? 
JG: That was a good experience, I haven't really worked with TSeries before and Arjun, but I had only met him (Arjun) at a couple of gigs. As we both have a lot of YouTube fans it worked well and it was a really fun experience. The video has been done really nicely.
Will we see any future such collaborations with Arjun?
JG: Nothing planned right now, but who knows!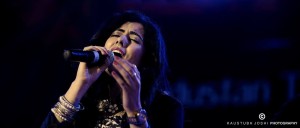 What do you like the most about performing live?
JG: I think its the energy that I get from the audience, when I see people's faces rather than me just singing to myself in my room! Its nice to see people responding and singing a long and appreciating your rendition. Thats what its all about for me.
What is your favourite song to sing live? 
JG: Lag Ja Gale. I don't really answer that question but I am just for you! Its definitely one of my favourite songs to perform.
What kind of Music do you enjoy listening to? 
JG: Anything to be honest! Classical, Opera! There is so much to learn. I don't really listen to music that often though, only when I need to learn a song.
How does it feel to perform in the UK? 
JG: Its great! There is a great audience here, lots of music lovers, lots of Indian music lovers! So its a great place to be in and to perform!
What can the audience expect from the Absolute Bollywood show?
JG: Its going to be a lot of fun! Normally when I do a show, I am just singing with my band but this show will be more integrated with dance – the Absolute Bollywood dancers will be there so its going to be a whole collective and we are going to be covering a lot of songs! It will be a treat for the eyes and ears! I'm stressing that we are covering a lot of different songs, generally I only sing 20-30 songs max, but we're covering 88 songs! Its an awesome number as there are 88 keys on a piano, 88 songs to Euphoria this concert will be!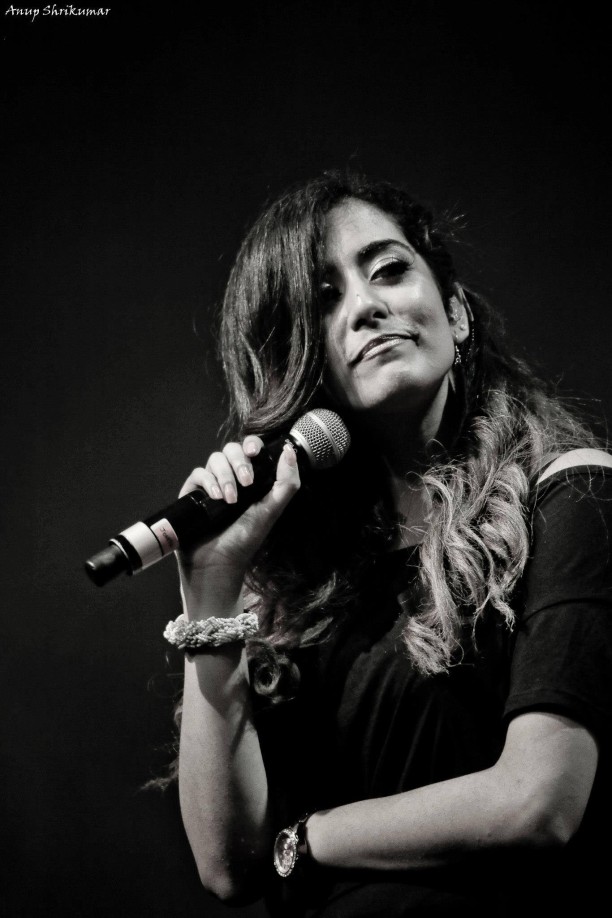 Any tips on how to maintain your voice especially for aspiring singers?
JG: I am probably the wrong person to ask! Whenever I get a sore throat, I generally drink hot beverages. But then again really, its just sleep as that really works for me. Rest well, rest your voice well and drink lots of water which is like the solution to everything!
Are there any future projects that you can share with us?
JG: The Absolute Bollywood concert is the big thing that is coming up from me! So a lot of efforts are going into that. There are a lot of recordings happening, but nothing that I can share just yet.
According to you, what do you think makes a YouTube song cover become popular?
JG: I think the existing popularity of the song will be the biggest factor. If you take a popular song, most likely you will get better views. If you are making a video just to get views then the thought process behind that is pick a song that is doing really well already. That's not how we go about it, we pick a song that we like and put the cover out at a time the song is doing well and we got lucky!
Lastly, do you have a message for your fans?
JG: My London fans: I want them to come to the Absolute Bollywood concert! Thank you to all my fans for being there, supporting me 'cause that's really what keeps us going as artists. Lots of love to everybody who listens to my music!
Don't forget to catch Jonita performing live on
22nd November 2015
with Ash King at the Eventim Apollo, London celebrating 50 years of Bollywood!