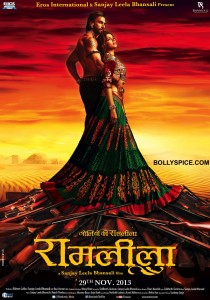 It may still be a little early to say that the countdown has begin. Still, given the fact that in today's time marketing and promotion of films have taken gigantic proportions and all milestones are pretty much celebrated en route to an eventual arrival of a biggie, it has just been revealed that Ram Leela is now exactly six months away from release.
Slated for 29th November release, Ram Leela is a romantic musical featuring Deepika Padukone and Ranveer Singh in the lead.
"Which means from now, one can well expect a gradual shift of conversation to this biggie, especially after Deepika and Ranveer are through with their immediate next releases," says a source attached to the film, "Deepika has 'Chennai Express' lined up for Eid while Ranveer is gearing up for his 'Lootera'. After that, all eyes would be on their pairing in 'Ram Leela'."
While 'secrecy' about just anything and everything has been the name of the game for this mega film which is a co-production of Eros International and Sanjay Leela Bhansali Films, all that has been revealed so far is Ranveer's moustached look.
"The First Look poster with the duo standing atop a pile of guns is also pretty intriguing as it gives an indication that there is a good deal of drama interspersed with action in the offering. However in a gradual manner, one can well expect the cards to be revealed around what Bhansali would be bringing on screens three years after 'Guzaarish'," an insider adds.
Well, perhaps one can actually say – 'The countdown has begun'.