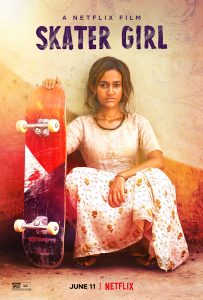 Skater Girl(Netflix)
Starring Rachel Sanchita Gupta ,Shafin Patel, Amrit Maghera, Jonathan Readwin and Waheeda Rehman
Directed by Manjari Makijany
10 minutes into the film, and I was convinced this was Slumdog Millionaire on a skating board in Rajasthan. Then 45 minutes later something magical happened. She is called Waheeda Rehman. I don't know how or where this enchantress, now in the winter of her life, showed up as a doppelganger of Gayatri Devi, telling us why she would fund a skatepark in Rajasthan. We appreciate.
I was half-way converted, though acutely embarrassed by the turgid benign-gora-log-inspiring-and-enlightening-brownfaced-kids subtext of the drama. There is a village in Rajashthan called Khempur where the scruffy kids in torn shorts and fading school uniforms get a chance to dream , when a pretty half-British-half-Indian full-on Mother Teresa reincarnation shows up, all muddy and weather beaten but full of beans.
Jessica(Amy/Amrita Maghera) shows up like a dimestore Florid Florence Nightingale."Tooom yeh karrrr saakta hai," she eggs on spirited teen-going-on-middleage Prerna(Rachel Sanchita Gupta, a natural, though the brown coloring could have been avoided as kids belonging to the lower castes are not always tanned). Prerna is well played by the debutante. But little Shafin Patel as her kidbrother Ankush is the real discovery of the film. The boy conveys all the acquired maturity and ingrained impishness of a male heir in an impoverished family who understands more of his sister's pain than he should at his age.
Many portions of the film are so touristy I felt I was watching a sponsored propaganda film on colonial superiority. What would we do if foreigners like Jessica and her friend Eric(Jonathan Readwin, Angel's sidekick) did not show up to change the lives of disadvantaged rural kids?
But then I have to admit by the end of it all , I was cheering and sobbing in a climax certainly inspired by Gurinder Chadha's Bend It Like Beckham, when Prerna flees from her marriage mandap to participate in a skating championship where, hallelujah,the ethereal Waheeda Rehman shows up again. Now if she's supporting the film, I am in.
Besides the two main child actors the film has some really likeable actors like the chap who plays Jessica's affable local guide and host Vikram(Ankit Rao). Ambrish Saxena and Swati Das are excellent as Prerna's harried parents. But what was the need for a romantic side-plot where (low caste) Prerna is wooed by a Brahmin boy Subodh(Vinayak Gupta) who has the shiniest teeth since God invented Colgate.
Skater Girl is effective when it avoids being schmaltzy and over-cute. When Prerna tells her mother that Jessica Madamji is from London the mother replies, "Yeh kaun sa goan hain?"
Really? At the end we are told that the skatepark built in the Rajasthan village to shoot this film now stands permanently as a recreational nirvana for children in and around the venue. For this alone, I forgive the film its excessive cuteness. Besides, Waheedaji mentions that some day she will tell us her character's back story. So I am looking forward to the sequel. But now I have to go. The skate board beckons.