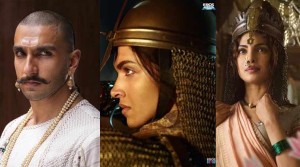 When Mughal-E-Azam released in 1957, it became an instant classic; a tragic love story set against a period in history renowned for its luxury and opulent settings. Perhaps most memorable is the film's creation of Lahore Fort's Sheesh Mahal (the palace of mirrors), which gave the film legendary status in the records of high budget Bollywood films.
But now, nearly five decades later, the great Sanjay Leela Bhansali, whose reputation for creating visually stunning, emotive epics is unrivalled, has created a set which surpasses Mughal-E-Azam's Sheesh Mahal. Bajirao Mastani, to be released later this year, will feature a stunning, grandiose set for its dance number 'Deewani Mastani'. Smashing records for most expensive set since Mughal-E-Azam, Bhansali has created another palace of mirrors called Aaina Mahal. The set, which took over 40 days to create, has been designed by Saloni Dhatrak, Sujeet Swant and Sriram Iyengar, using mirrors ordered specifically from Jaipur and handpicked by Sanjay Leela Bhansali himself. Selecting over 20,000 intricately designed mirrors, special karigars (craftsmen) were summoned to work on embedding the each individually to maintain realism of the period. The set measures 12,500 square feet, boasting 13 chandeliers filled with real candles to create an authentic atmosphere.
Set designer Saloni reveals that the biggest challenge was to create something equally grand but different from Sheesh Mahal, "We created the Aaina Mahal keeping Maratha architecture in mind. We have consciously kept the size of the mirrors in a range that would help maintain the design's delicateness, and not pose any obstructions when it comes to capturing the set on camera"
Starring Ranveer Singh, Deepika Padukone, Bajirao Mastani tells the story of one of the least known parts of Indian history – that of the Maratha and Peshwa princes and the battles between the Mughals to create the princely states, and the love story of Bajirao, The Warrior. The film will be released globally on 18th December 2015.