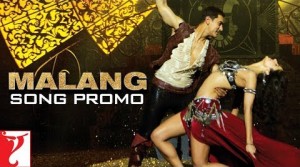 Dhoom 3 is finally around the corner. As the release date of December the 20th gets closer, the anticipation is certainly heating up!
The recently released 38 second promo video for Malang has taken the world by storm with more than 3 lakh YouTube hits on just the first day and more than one million hits so far. Having cost 5 lakhs (£570,000 or $933,200) to produce, Malang is not only 'the most spectacular song ever' as the promo headline states, but also the most expensive song of Bollywood – ever. Not only that, but perhaps the most daring too.
The song features Katrina Kaif and Aamir Khan performing some seriously dizzying acrobats. In fact, it was reported that Aamir Khan became extremely nauseous and had to take medication for the 15 day course of Malang's shoot. According to sources, not only did Khan have to spin 60 times in a minute- that is one spin per second- but that too at a height of around 80 feet.
With a Sufi inspired beat and lyrics, the term Malang is used in poetry to describe a Sufi lost in their loving search for the divine, as well as symbolising a lover who has lost all their senses.
Incredible stunts, sizzling choreography and a dizzying love, Malang is literally just a taster for what is to come on the 20th of December.
Watch Malang here!
[bolt id="467724″]