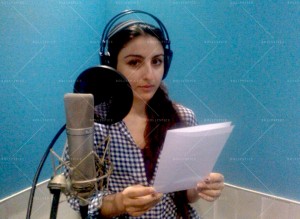 Soha Ali Khan, who is playing the character of NRI girl Neha in Sunil Khosla & Vibha Dutta Khosla produced film Charfutiya Chhokre, has given her voice for a verse written by Rabindranath Tagore. Since the film deals with the subject of child education and their exploitation for Crime in India, below written verse is most apt to describe their plight. Directed by Manish Harishankar, this film opens with this verse recited by Soha and it also closes with the same verse to make the message clear – make this world a progressive and safe place for children. "For me its an honor to read something written by Rabindranath Tagore. His writings are like anthem to us. In fact there is also a song 'Vidya ki parasmani'  written by Sri Tagor. Initially I was supposed to recite it but due to time constraint, Vibha Khosla sang this prayer. But I wanted to read something and when they gave me the option, I immediately grabbed it," says Soha.
The Poem

"bacche bhee insaan hain…
woh badon se zyaada komal aur sacche hain….
jinke chaaron oor banavateepan ki koi diwaar naheen…
unke sanrakshan aur vikas ke liye zaroorat hai…
na sirf unhe school mein shiksha mile…
balkee saath saath ek aisi duniya mile…
jahaan pyaar ho…sneh ho…."
–    Gurudev Rabindranath Tagore
Star cast of Charfutiya Chhokre are Soha Ali Khan, National Award winner Seema Biswas, Zakir Hussain, Mukesh Tiwari, Lekh Tandon and child actors Harsh Mayar (I am Kalam fame), Shankar Mandal & Aditya Jaiswal etc. Cinematography is by V Bala, Editing by Manish Harishankar and Music is given by Abhijit-Sameer. Singers are Sharda Sinha, Malini Awasthi, Vibha Dutta Khosla, and Sudeep Banerjee. Music is on T Series.
Charfutiya Chhokre is releasing all over the world in 600 Screens including USA, Europe, UAE, Malaysia, and Singapore on 26th September 2014.