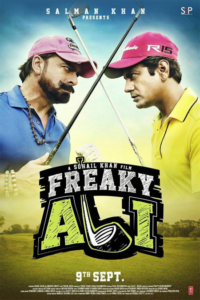 "Nawazuddin Siddiqui agreeing to take up Freaky Ali was the reason why the film was made", director Sohail Khan has said, further adding that he needed "Nawaz's sensibility" for the film.
"People think it's an elitist game meant for the rich and the privileged. My basic premise for the film was what if someone from the lower strata of the society, in this case an undergarment seller from small town, gets thrown into the vast elitist green acres of golf? What if this simpleton doesn't know of the existence of the expert golfer within him? That's how this film started," Sohail said.
And that's where writer Raaj Shaandilya came to help Sohail co-write the script. "I've known him from the time he was working on Comedy Circus. I was a judge on the show. I needed his sensibility in Freaky Ali," he added.
Sohail also needed Nawazuddin Siddiqui to play Freaky Ali. "It's my good fortune that Nawaz came on board. I can't see this film working without him."
Nawazuddin, admits Sohail, has become a part of the Khan family. "It's really very simple in our family. If you love us, we love you back. If you are hostile towards us, then that's what you get from the family."
Freaky Ali in cinemas on 9th September 2016.