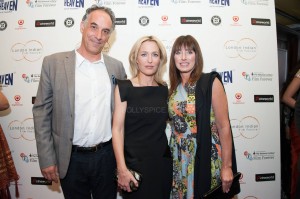 Oscar winning director Jeffrey D Brown's hard-hitting child trafficking drama Sold, executive produced by Emma Thompson and starring Gillian Anderson, which opened the 5th edition of the London Indian Film Festival (July 10-17), has won the festival's Pure Heaven audience award.
Jeffrey D Brown said, "It's really amazing. I hadn't really anticipated this at all. I'm really grateful, humbled and speechless. I really hope this galvanises more people to see the film so that we can help the kids who've been through this ordeal and we can end this travesty around the globe." Brown and producer Jane Charles are in advanced discussions with distributors with a view to securing a global release for Sold in early 2015.
The runner up for the audience award was Samruddhi Porey's Hemalkasa, the festival's closing night film starring Indian cinema icon Nana Patekar. The film is a biopic about a doctor couple that dedicated their lives towards improving the lot of tribal people in Western India with little or no help from the government.
The festival's popular Satyajit Ray Foundation Short Film Competition was won by Shubhashish Bhutiani's Kush. The award carries a cash prize of £1000. Kush previously won short film kudos at Venice and was long-listed for the live action short film Oscar. Ananya Kasaravalli's Devil in the Black Stone (Kappu Kallina Saitana) won a Special Mention.
Shubhashish Bhutiani said, "Thank you so much to the London Indian Film Festival Jury and the Satyajit Ray Foundation for this amazing honour. His dealing with children and the way he told truthful and complex stories in such a simple way are some of the things I've learnt from Satyajit Ray. I heard the story for this film in a classroom many years ago, and felt compelled to share it after it resonated with me for all that time. With an incredibly supportive cast and crew, we made the film with the little resources we have, and for it today, to be recognized by our own community in such a culturally diverse part of the world, means a lot to me."
The London Indian Film Festival has grown exponentially in five years and is now the largest South Asian film festival in Europe. Festival Director Cary Sawhney says, "I think it's been an amazing festival. We've grown by at least 30% this year and we're getting global films! We've got Hollywood films in the festivals, Indian films, British films, Bangladeshi films, Pakistani films and it's all happening in the heart of London, the only city where this kind of engaging range of cinema is embraced. It's great!"
Highlights of the festival included the UK premiere of The Walt Disney Company's Indian-themed Million Dollar Arm, followed by a Q&A by star Madhur Mittal and producer Mark Ciardi, Gillian Anderson who delivered a moving Q&A on opening night along with Jeffrey D Brown and Jane Charles and sold out screen talks and masterclasses at the British Film Institute delivered by Santosh Sivan ASC (The Terrorist) and Farhan Akhtar (Bhaag Milkha Bhaag). Farhan Akhtar said, "The London Indian Film Festival is run by a group of passionate people and I think it is a great platform to share my experiences with aspiring filmmakers."
Our Major Sponsors this year include Queen's Award for Enterprise International Trade winner Sun Mark Ltd, producers of Pure Heaven brand, and founding sponsor Grange Hotels. Partners include BAFTA, ICA and Cineworld cinemas. The festival is also grant funded by the BFI Film Festival Fund.
Harmeet Ahuja, Director of Operations, Sun Mark Ltd, said, "Sun Mark and Pure Heaven is delighted to support the London Indian Film Festival and its promotion of independent films. Independent cinema frequently addresses subjects, which might otherwise be swept under the carpet. Mainstream filmmakers are often under pressure to only pursue financial and commercial gain and hence find it difficult to deal with socially difficult or sensitive issues that might not appeal to most cinemagoers. As a result, issues that are important to society are not portrayed in a manner that might help put across the message in its most effective form. We applaud the team at the London Indian Film Festival for their efforts, success and growing recognition amongst viewers and within the industry and look forward to working with them not only now but in the future too."
For further information visit www.londonindianfilmfestival.co.uk.
Please read our Sold 4.5 Star review from the Screening at LIFF and then check out our special interviews with Gillian Anderson, Jeffrey D Brown and producer Jane Charles.