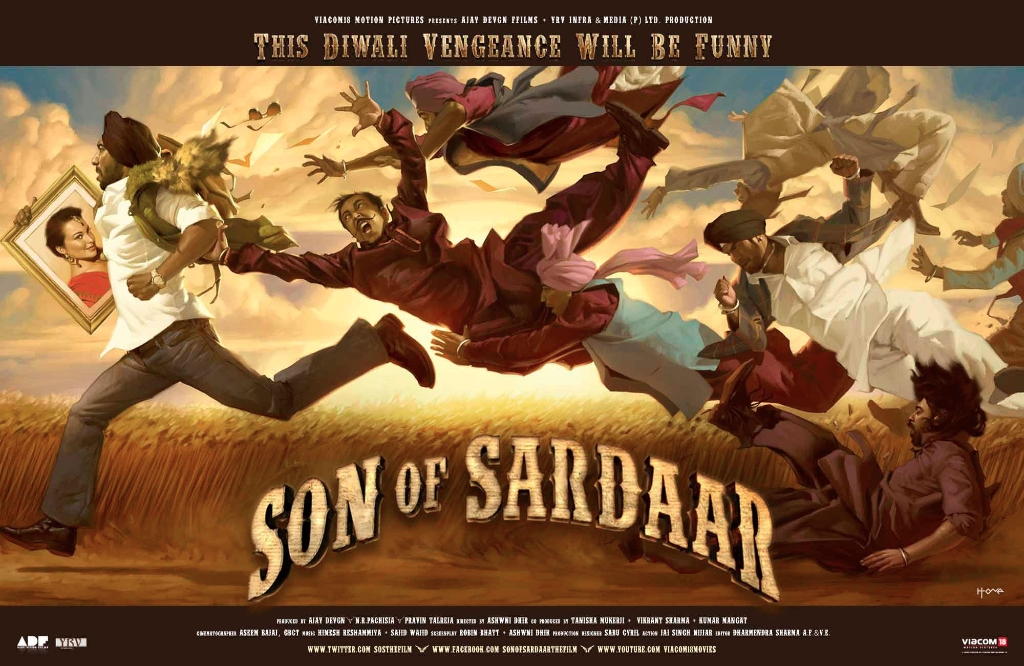 Starring Ajay Devgn, Sonakshi Sinha, Sanjay Dutt, Juhi Chawla, Tanuja, Mukul Dev, Vindoo Dara Singh
Directed by Ashwani Dhir
Every time Vindoo Dara Singh who plays a part of an extended patriarchal Punjabi parivaar in the Sikh heartland, opens his mouth to speak, he is shushed down by others saying, 'Silencer lagaa'.
By God, at times you feel this loud, flamboyant, ostentatious yet – all right, admit it – sinfully engaging film should just pipe down. There is so much that's noisy about this film. And we aren't talking about Sandeep Chowta's over-accented background score. Yet it's never unpleasant noise.
Son Of Sardaar takes us straightaway into the core of a family feud in Punjab where Sanjay Dutt, playing a goofy oddball of a Punjabi patriarch as only he can, wants our affable Sardarji Ajay Devgn dead to fulfil an ancestral vendetta.
Let me warn you right away that the IQ level of every character in this film is way below average. Every man in Ashwani Dhir's world of belligerent blood baths is more daft than the previous. The women are slightly more intelligent, though our leading lady Sonakshi Sinha, photogenic as she is, has begun to get repetitive in her chirpiness. Juhi Chawla as the woman who waits 25 years to marry Sanjay Dutt and then finally tells him, 'Sorry, I don't want to build my mandap over the grave of another woman's love " is also intellectually challenged.
The smartest character in this smarter-than-the-characters film is played by Tanuja who as the matriarch feigns senility whenever it suits her.
And the men around her make it easy. They are incorrigibly dumb, you see.
Love it or hate it, Son Of Sardaar is what a mainstream Hindi film is meant to be. A full-on masala-maar-ke action-comedy with dollops drama dripping from the edges like wet cheese in a tasty pizza. This is a film which is not just smarter than its character but also much more intelligent than it actually seems.
Son Of Sardaar derives its feisty energy from the original Tamil film by S Rajamouli (Maryada Ramanna). The feudal plot is transposed from Madurai to Punjab. With that journey that the plot undertakes the film acquires a whole lot of cocky humour and a kind of eclectic warmth that keeps popping up most unexpectedly.
Providentially, Son Of Sardaar turns the vendetta saga on its head. The bloodshed between two warring families is converted into a crisp comic currency where the action speaks louder than the words. Director Ashwan Dhir, whose antecedents in television showup here in the episodic movement of the plot, sustains the action, comedy and drama in the same line of vision. Miraculously the plot moves steadily from mood to mood without seeming scattered. There is space even regular breaks for romance in the narration. Though the songs could have been avoided, the song breaks are pleasant.
Son Of Sadaar is nothing more than a sum-total of various breaks as the plot speeds its way through a Punjabi feudal saga. By the time the chaos is all sorted out, the narration collapses in an exhausted but triumphant heap.
This is a well-told story of ceaseless silliness buoyed by a sense of frenetic pleasure-seeking that leaves us exasperated and exhilarated at the same time. Some sequences such as Devgn and Sonakshi's first encounter in the train, overstay their welcome. Just like the mehmaan Paresh Rawal in Dhir's last Hindi film Atithee Tum Kab Jaoge Devgn refuses to leave once he enters Dutt's family home. The rather eccentric comic strain in the plot hinges on trying to get Devgn out of Dutt's home to settle an old family score.
While Dutt is more satirical than sinister in his search for vendetta(and that's what the script requires him to be) Ajay Devgn's Sardar act is brilliantly controlled and moderate. He plays the foreign-returned Sikh who is suddenly thrown into a fatuous feud with a sense of wonderment. The quips about Sardar jokes and Sardar quirks lend a self-deprecating transparency to the character. Ideally Akshay Kumar would've played this part. But Devgn takes the rather dimwitted but affable character to a higher than the goofy plane. This man knows when to act dumb .
Among the truckloads of supporting players Mukul Dev as an oafish loutish drunkard stands out. But didn't he play the same character in Samir Karnik's Chaar Din Ki Chaandni not too long ago? Come to think of it, haven't we visited the Punjabi heartland frequently enough since Imtiaz Ali's Jab We Met? Give this one a chance though.
If you're looking for a Diwali entertainer look no more. Son Of Sardaar is a rollicking rumbustious wild and wacky action-comedy. It's a spaghetti-western relocated to Punjab that would keep Devgn's fans regaled. Even if you are not a big fan of the typical potboiler this one makes you smile.
One question : why was Juhi Chawla behaving like Dolly Bhindra?