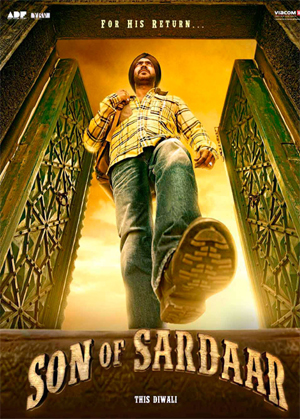 Son of Sardaar promises to be a masala action/comedy film, which will feature Ajay Devgn, Sonakshi Sinha, Sanjay Dutt and Juhi Chawla in key roles. It has been directed by Ashwani Dhir and produced by Ajay Devgn, N.R. Pachisia and Pravin Talreja. The film is scheduled for a Diwali release on 13 November 2012. It will therefore be going head-to-head with Yash Chopra's Jab Tak Hai Jaan, which also releases on the same day. A clear synopsis has not yet been revealed, but apparently this film is based on a man who becomes the prime target of a family conflict once he returns to his ancestral village.
The music for the film has been produced by Himesh Reshammiya, who has recently composed soundtracks to films such as OMG Oh My God, Dangerous Ishhq and Bodyguard. The dynamic due Sajid-Wajid are also guest composers on the soundtrack and they have both created the song 'Yeh Jo Halki Halki Khumariya.' A number of lyricists have made contributions to this album, which include the legendary Sameer, Shabbir Ahmed, Manoj Yadav, as well as Irshad Kamil. So what does the soundtrack of Son of Sardaar have to offer to us? Let's take a look and explore what it will bring to our ears!
The first song in the album is the title track Son of Sardaar, performed as a duet by Aman Trikha and Reshammiya. A mix of rock and Punjabi flavours are infused into this song, with references to Reshammiya's previous composition 'Desi Beat' from the film Bodyguard also present in parts of it. Despite Trikha and Reshammiya delivering good vocals and the fact that the composition is not bad, I would still consider it to be average overall. Having said this, I very much prefer the song on its own compared to its horrid music video which recently released as part of the film promos. The reference to 'Desi Beat' should have been left out completely and this was perhaps a lazy effort on Reshammiya's part. However, I think this song may have an impact on certain listeners and therefore, I would not classify it as skip-worthy. So give it a listen and see if you agree or disagree with me. In general though, it is satisfactory but it could have been honed in order to make it a powerful number. The remix of this song is just pointless! I feel that it was included just to extend the length of this album, rather than provide a catchy and highly addictive remix version to a Bollywood song. Hence, give this one a miss in my opinion as you will not be missing out on much.
Following this we have Bichdann, performed by the brilliant Rahat Fateh Ali Khan. The Tabla is the dominant musical instrument here, though Rahat's voice takes over so much that its presence is not felt to a great degree. Initially, I was actually quite excited to listen to this song knowing that Rahat has sung it. However, after having listened to it in full, I found this to be arguably one of Rahat's weakest songs. I felt the composition did not make this an ideal platform for him to truly showcase his splendid vocals which we are all aware of and have heard him utilize in previous songs. The same applies to its Reprise version. Although the music is certainly an improvement from the original as it has good bass and a strong modern touch to it, Rahat deserved something more magical to complement his signature voice. Hence, do not have such high expectations for this song as you will be left unsatisfied!
The next track is Kabhi Kabhi Mere Dil Mein Yeh Sawaal Aata Hai. Clearly this is a play-on-words with the classic song 'Kabhi Kabhie Mere Dil Mein Khayal Aata Hai' from the film Kabhi Kabhie. There are two versions: a Funk Version and a House Version, and there is no singing involved. Instead, it is peppered with dialogues from the film by Ajay Devgn. Thus, it is only fair that my judgement on both tracks are based on the music alone more than anything else. I personally think that the Funk Version is much better in contrast to the House Version. The Funk Version has both a contemporary and desi style to it, with the use of instruments such as the dhol drums and electric guitars. This makes it more enjoyable compared to the House Version which is a more techno oriented track and contains drums and bass also. However both tracks have no real appeal and again, I feel they have been included simply to extend the length of the album. Hence, they are both skip worthy. This is despite the fact that they may be referred to by those who end up really enjoying the film and want to listen to the dialogues uttered by Devgn.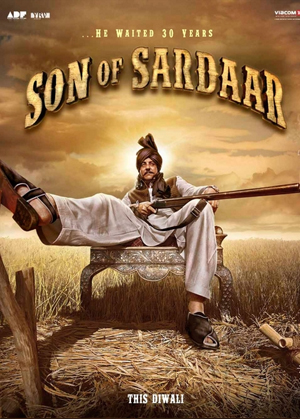 We also have Rani Tu Mein Raja, sung by Mika, Bhavya Pandit and Yo Yo Honey Singh. There are a number of central instruments which can be heard like the trumpets and the drums. Honestly the song is not very rewarding. In addition, the music and vocal performances by the singers are mediocre and do not have an impact on you. Neither are the lyrics, especially as it has been penned by Sameer who is famous for having written lyrics for some truly riveting and memorable songs in the past. Overall, this song just does not have the oomph needed to make it outstanding. Yet I think it has just narrowly escaped from being classified as a skip-worthy song, so give it a chance and perhaps you may have a different opinion of it. The remix to this song is below average and I feel this was unnecessarily included in the album in order to fill some kind of void. If I was compelled to choose between the original and remix version to 'Rani Tu Mein Raja,' I would instinctively go for the original as it is much better. Therefore, give the remix a miss!
Next up we have Po Po, performed by Vikas Bhalia, Aman Trikha and Reshammiya. The song has likable Punjabi elements to it and you can hear the dhol drums buzzing in your ear. A good effort has actually been made with this particular track and it is quite catchy. This is despite the annoying "Po, Po, Po, Po, Po" routine which you hear in the song. You will know what I am talking about when you listen to it. In my view, although it is not one of the best songs in the album give this one a listen anyway.
Tu Kamaal Di Kurti follows, with vocals from Vineet Singh and Mamta Sharma. The song is decent and the culture of Punjab is manifested throughout. The performances by Singh and Sharma are very good and Singh especially does not fail to disappoint. This is perhaps one of the best tracks in the album and I can imagine this being played at a wedding, festival or another type of Asian function. A song which perhaps may put you in a positive mood!
Finally the album concludes with the song Yeh Jo Halki Halki Khumariya, another one performed by Rahat Fateh Ali Khan. I was waiting for at least one song to dub as the ultimate highlight of this soundtrack and this is the one! The song is breath-taking to listen to and Rahat gives a very eloquent performance. This definitely makes up for the average 'Bichdann.' I love that Sajid-Wajid has allowed classical Indian music to clash with rock and roll music in this particular track. This gives it authenticity and it makes you want to listen to it again and again! The song also has great and meaningful lyrics, which makes it even more pleasurable to listen to. This is most certainly the best song in the album so do listen to it and you may be left feeling very impressed!
To close this review with my overall opinions of the Son of Sardaar soundtrack, I should say that I genuinely had high expectations for this one before having listened to it. Now that I have been fully exposed to all the tracks in the album, I found most of them to be weak and not very creative. Therefore, it can be deemed as an unfulfilling soundtrack which will leave you very disappointed. I really thought this album would be one of Reshammiya's best works but unfortunately it is not. In my opinion, 'Yeh Jo Halki Halki Khumariya' and 'Tu Kamaal Di Kurti' are the best songs in the album, with 'Po, Po' and the title song 'Son of Sardaar' being listenable compositions. As for the rest of the tracks in the album, they are just boring to listen to. Overall, I think it is an album which will not have a massive influence on Bollywood fans and definitely not one of the best to have emerged this year. I only hope that the film itself will make up for its bland soundtrack when it releases on 13 November 2012.