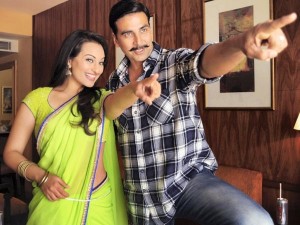 We all know that Akshay Kumar and Sonakshi Sinha have previously wooed audiences with their onscreen chemistry in films such Rowdy Rathore. Whilst fans will have the opportunity to see them together onscreen in Once Upon a Time in Mumbaii Dobaara too, we have some further exciting news to share with you.
Apparently, the pair will reunite again for a special song in Anthony D'Souza's action movie Boss. The film, which already has Akshay in the lead role is slated to release this October and will feature a song titled 'Party all night', in which the duo will be seen dancing together!
A source at NDTV India has said that while some of the shooting for the song is underway in Mumbai, some parts of the song will be shot with Akshay and Sonakhsi in Bangkok.
Directed by Sumit Dutt and choreographed by Raju Khan we are eagerly waiting to get a glimpse of this song! Lets hope Akshay and Sonakshi's onscreen association works wonders and their chemistry mesmerises fans all over again!