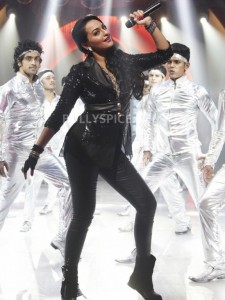 Yes, you read right – Sonakshi was indeed inspired by yesteryear actresses, Sridevi and Parveen Babi for her latest appearance in the song 'Thank God It's Friday' for Ajay Devgn and South's Tamannaah (Bhatia)'s remake of 80's hit Himmatwala.
We've talked about the song before, but never in great detail, so what does director Sajid Khan have to say about the song? "The studio set up and the props take us back to the 80's and I have taken inspiration from the discos of the 80's era which include, Scorpio, Xanadu, RGs, Cellars and Take Off. Being a common visitor to these places enabled me to recreate the entire set. The movie is a tribute to the era and one can see certain iconic elements in it, from Rubik cubes, Pac-Man video games, posters of Arnold Schwarzenegger, Michael Jackson, Mithunda, Rishi Kapoor from Karz, Tom Cruise in Top Gun, everything on the sets was a turn back in time."
But what did the star of the song Sonakshi, think of her avatar in the song? "Manish (Malhotra) has done a fantastic job and I absolutely love both my looks. I also watched the videos of Sridevi and Parveen's old songs before I started shooting,"
Why did the director pick Sonakshi for the song? "I was clear that I wanted an A-lister for my opening song. Sonakshi and I have been friends from sometime now and know each other well."
Himmatwala releases on 29th of March 2013 and is produced by UTV and Vashu Bhagnani, with the music composed by the brilliant duo Sajid-Wajid. Watch this space for more on Himmatwala and more!