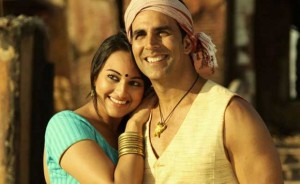 Fiery Dabangg and Rowdy Rathore star, Sonakshi Sinha has confessed that she is in awe of her Rowdy Rathore, Joker and OMG: Oh My God co-star, Akshay Kumar! She is so struck by him and their close friendship, that she has blagged herself a few scenes in Akki's 'Hari Om' home production, OMG: Oh My God.
A source close to the star states, "At one of the recent creative and content meetings held to track the film's progress, Sonakshi too had come in for some time. And when she saw the rushes of the film, she mentioned that she too wished to be a part of the film. She also said that since she had been working with Akshay for quite some time now, had he asked her to be a part of his production, she would have readily accepted the offer. And now, the production house is trying to add a few scenes to fit her in. Unfortunately, Sonakshi's scenes may not be with Akshay since he will leave for the Middle East soon to shoot for the sequel of Once Upon A Time In Mumbaai. Sonakshi may get to share screen space with the protagonist Paresh Rawal."
About her friendship with the Khiladi superstar, Sonakshi states, "I know many have said this before but based on my first-hand experience with him, I have to say that he is someone who doesn't make you feel that he is such a big star. He is such an easy going person and you can see the entire atmosphere change on the sets when he is around. He is so jovial and also down to earth. Whether there is a light boy or a spot boy, he acknowledges everyone and gets into a conversation with them. You will never find him isolated in his own world."
Sinha further adds, "I guess when you work more and more with a person then there is an understanding that develops in real life then it is bound to show on screen as well. This is one of the biggest reasons why our chemistry has been widely accepted so far."
Let's hope that Sonakshi and Akshay's friendship will continue to grow and prosper and hopefully might rub off on others too!