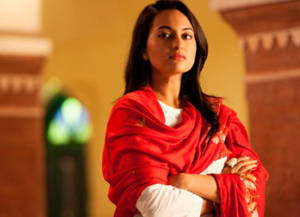 After the release of her recent film, Son of Sardaar, Sonakshi Sinha is clearly settling into the industry well. But what's on the horizon in 2013 for Shotgun Jr. ?
Well for starters there's Bullet Raja (opp. Saif-Ali Khan), Lootera (opp. Ranveer Singh), Once Upon a Time Again (opp. Akshay Kumar and Imran Khan) and Namak (opp. Shahid Kapoor). All forthcoming 2013 films for Sonakshi, which by the looks her co-stars and storylines, will hopefully prove to be a good year for hamari Rajjo!
Having recently been filming for Vikramaditya Motwane's Lootera, how did the Indian beauty find working with the acclaimed director (Motwane previously worked on films such as Hum Dil De Chuke Sanam, Devdas, Dev. D and Udaan)? "Lootera, in terms of look and character has been my toughest. I hope people like it. Working with Vikramaditya was like going back to school. He is a wonderful director in terms of getting out a performance. Going back to 1950s is not an easy thing to do', she stated in a recent interview.
Sonakshi also further added 'Lootera is my first costume drama. It belongs to the 1950s era. So I was really excited before we started shooting the film, but during the course of the shoot I realised that my character had turned out to be the most challenging one.'
What does the newbie think of her fellow female actors? Is there any rivalry between any of them? 'I believe in healthy competition. I find certain actresses very good and fresh on screen today like Deepika (Padukone), Anushka (Sharma) and Parineeti (Chopra). Everyone is here to do hard work and a good job. I don't try to go ahead of them. I don't think of it like that. I think minding your own business is the right way to go', she stated matter-of-factly.
Not a lot of actresses give it to us quite so straight, so it's refreshing that Sonakshi is choosing her own path! We wish her and all of our Bollywood actors the best of luck in the future. Want to know what your favourite stars' upcoming projects are? Well it's simple; just keep it locked on BollySpice!