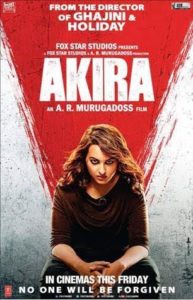 Since stepping onto the scene, Sonakshi Sinha has played a variety of roles – from the cool but resilient damsel in distress, the one who is dying, the one who falls in love and many more, but there has always been one role she knew she wanted to take on – a full on action avatar.  In Naam Hai Akira, (AKIRA In India) the gripping action thriller, directed by the great AR Murugadoss, Sonakshi got that chance to be the action hero.
Naam Hai Akira tells the tale of a college girl, Akira, who has grown up with the ideals of being self-reliant. Her life spirals out of control when she unwittingly becomes a part of a crime involving four corrupt police officers and she takes them on single-handedly in a bid to prove her innocence. Does she? We will have to wait until September 2nd to find out!
Sonakshi is very excited about this film and told Stacey about her training and playing the tough role of Akira and much more in this exclusive and fun interview!
When you first heard the narration for this role what were your thoughts?
I was really excited to be honest, because here is a director like Murugadoss, who has worked with some of the biggest action stars of our country, who has made some really big blockbuster films; and he has approached me to do a film where he wants me to be the hero. To play a hero role and do the kind of action my co-stars have been doing in the past, for me, it was really big deal. I felt that this character came to me at such a point in time where I was looking at doing something that is exciting. That is different. That I would really, really look forward to. That I would really have to prepare for so I felt that it was a really, really good role for me.    
Did you ever wish while watching the action and fight scenes of your earlier movies… 'Oh I want to do that'?
All the time!! (Laughs)
Now, are you happy that you got to do them? Is it what you thought it would be?
Absolutely! I am somebody who really enjoys watching action films and I guess being part of them also. That is why I have probably done so many of them in my career as well, but I have never gotten to do the kind of action that my co-stars have done.  Until now – in Akira. Every time I would watch them I would think when I am going to get to do this. It looks so exciting. It is crazy. It is a lot of hard work.  It is always something I wanted to do and I am very happy I got to do it for this film!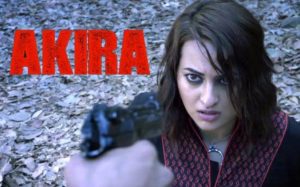 We have seen in the making of videos that were released, you really had to train hard to get ready for this film. What was that experience like?
Yes, yes I did! Actually the making of videos were the initial stages of my training. It got way more intense further on. While I was shooting the film I was still training.  When I had the action sequences my trainer would be on set. It was quite, quite grueling and physically very demanding!  
So I have to ask, since it was so intense how sore were you?
I used to be sore everyday. I didn't know what it was like to be normal anymore while I was doing the film. I used to wake up with a different body part aching every single day. (Laughs) Every single day I would be like why am I doing this?! But I kept telling myself that it will all be worth it.  Just hold on, be strong and go ahead and keep doing it. I think when I saw the trailer and I saw the film I felt like yes, it was all definitely worth it. At the end of the day we made a great film.  
Are you proud of your self that you made it from that first punch and kick and then made it through the filming?
Ohh yeah, I did give myself a little pat on the back. (Laughs)
What is it like to shoot a fight scene?
It is quite enjoyable actually!  A – because it was something I had not done before. B – because when you learn something new for a film and then you apply it while you are shooting. I think it makes it that much more exciting.  It is quite cool!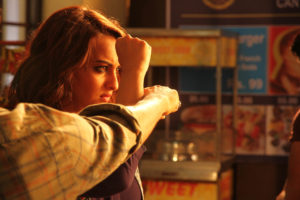 How did you get yourself into a place to be that tough girl and do the fight scenes and the scenes where she is really scared and the really dark hospital scenes?
I think that is where the challenge comes in. Akira faces circumstances in life that I couldn't possibly even imagine.  Not even in my wildest dreams. She is in jail, there is the scene in the asylum, she is doing the fighting and the action, stuff like that, that I can't even start thinking of, you know?  So for me, that is where the challenge came in. And that is were working with a director like Murugadoss who explains to you exactly how he wants it. Then in your head you put yourself into those situations and understand what kind of emotions that girl probably would have gone through at that time. So it was definitely a challenge, but I was all up for it!
Was this one hard to let go of at the end of the day because you did shoot some pretty dark scenes?
Yes. I would say it made me step out of my comfort zone.  There were times where I was shooting where I was feeling very uncomfortable in my surroundings in the place that we were at. I guess that fact just makes you stronger as a person and as an actor. I felt like it challenged me in those ways, because it did take me out of my comfort zone.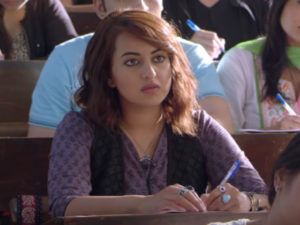 The music is wonderful. I loved the album and I loved your track. How cool was it to sing for your own movie?
It was really cool! I am really glad that I made it happen for this film because it is such an important film for me right now in my career.  It is the first film where I am the main protagonist. For me, to sing for this film makes it even more special. You know, it just happened so impromptu. We were actually shooting the music video and I was singing the song so loudly while I was shooting for the video that the producers came up to me and they were like, 'Why don't you just go sing the song if you want to do it so badly?' (Laughs) So I was like, 'Yeah, okay let me do it!' I went to Vishal-Shekhar's studio and recorded it. I was out in like half an hour. It was a fun process, but it was really impromptu.  
Do you have another song that you love on the album?
I really like 'Baadal', because it comes to a point in the film where this girl is feeling really lonely. I feel nothing can convey emotions more than music.  This is not that kind of the film where suddenly she can just break into song and dance. The music plays a big role in the background in order to convey the emotions that this girl is going through.
Why do you think this such is an important film?
I feel that this is an important film because I really feel it is the first of its kind.  I don't think you have seen a female protagonist in this light. With Murugadoss sir, it was so great. I worked with him on Holiday and I saw him direct Akshay Kumar and he directed me no differently then he directed Akshay Kumar. He did not make me feel any less than the hero of the film. That I feel was so fantastic and so encouraging. It really brought out a better performance for me in the film.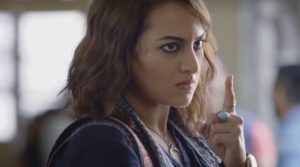 Is it harder to do an action film like this, a full on drama or play falling in love with someone?
I think it is definitely harder to do an action film like this, because I am a drama queen so the drama comes out naturally, and I love comedy, or I would like to say I have good comic timing, but to do action like that, which is something so completely strenuous – that is difficult.
And as you said, put yourself in a place that you have never experienced before in your life…
Yes!  Exactly and can't even think of experiencing. I never want to go to jail (laughs) so it is definitely difficult.
What was it like to work with Anurag Kashyap as the protagonist?
He is really great as an actor! I found it really cool that he left his being a director at home before he came on set. He was there in the capacity as an actor and that was exactly what he did. He did not challenge or question Murugadoss sir in any way. I feel it has turned out really nicely. He has been appreciated in the trailer.  He has played the role of the villain fantastically, he has done such a good job. I am so happy.
What about the great Konkona Sen Sharma?
I feel she is such a wonderful actress. She is somebody whose presence is enough to, I think, better your performance. If she is in the same frame as you that automatically pushes you to do better. She is a wonderful person as well. What a sweet lady.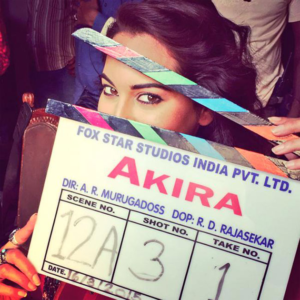 What do you think audiences are going to love about this film?
Just the fact that it is so different. It actually is a really cool action thriller in Murugadoss style. You know, he is a director who doesn't just make pointless films. They are entertaining and also they have a message. This film, also, is very, very entertaining, it will keep you on the edge of your seat and it has a very, very good message for society.
What would you say that message would be?
It is about women and how they should be so well equipped to take care of their selves that they don't have to depend on anybody. I think that is a very, very strong message and a much required message in today's society.
Very true!
Do you have a message for your fans?
I would like to thank them for all their support that they have always given me and want them all to go to the theaters on the 2nd of September and watch this cool film.
What is on the slate for you next?
Up next is Force 2, which again is an action film. I am playing a RAW agent in that film, which is really, really exciting! After that is Noor.
Sonakshi Sinha is one of my favorite actresses to interview and I thank her for the great interview again!
Naam Hai Akira (AKIRA In India) hits theaters on September 2nd.