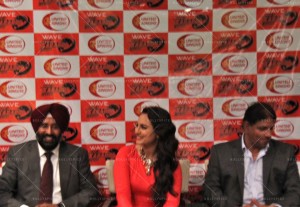 Bollywood star Sonakshi Sinha attended a press conference in London on Monday to talk about the upcoming World Kabaddi League and the United Singhs team. The 27 year old actress co-owns the United Singhs along with The Hayre Group in the UK, who will be playing in the inaugural games at London's O2 arena, which takes place on Saturday 9 and Sunday 10 August 2014. Also in attendance were co-owners Mr Hayre, Mr Thomas Hayre, as well as Southall MP Mr Virendra Sharma.
Speaking about being a part of this exciting new venture, Sonakshi gave this response during the press conference. "I'm very excited to be a part of the World Kabaddi League. I've grown up playing a lot of sports such as volleyball, basketball and football. In India, I think that cricket is the one sport that has been put on a really high pedestal and the other sports get sort of diluted in the shadow of cricket. I want to move forward and be a part of a sport that has such great potential, which is Kabaddi. It's being played all over the world and we want to break it out to a lot more people. So I'm really excited to be a part of this venture and I hope that it gets picked up all over the world."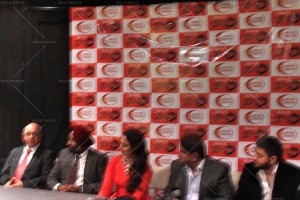 BollySpice was at the press conference and we asked Sonakshi during the Q&A if Bollywood can help to popularise Kabaddi, given that stars such as herself, Akshay Kumar, Yo Yo Honey Singh and Abhishek Bachchan have invested in Kabaddi teams. Responding to the question, Sonakshi had this to say. "I think yes because when people can identify with a face that represents a team or a particular sport or any new venture that's coming along, it can help in a big way and it goes a long way for people to stand up and take notice. It will be a great help for all of us coming together and being a part of something that has great potential."
We also asked Sonakshi if she thinks it is worth investing in the United Singhs in the long run. "Absolutely, absolutely," she said. "It better be" (audience laughs).
Also speaking about the World Kabaddi League was Mr Hayre who had this to say during the press conference. "We are taking it to an international level and hope that five years down the line it will be as popular as IPL (Indian Premier League).
The World Kabaddi League kicks off at The O2 Arena in London on Saturday 9 and Sunday 10 August 2014! You can book tickets to watch the matches by clicking on the link below.
Also check out the great pictures of Sonakshi and guests from the press conference!