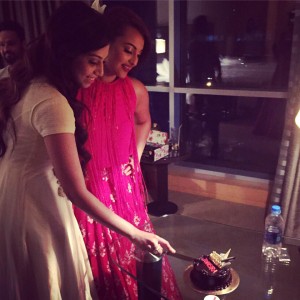 One of the most adorable actresses of Bollywood, Sonakshi Sinha was overwhelmed by her fans gestures recently. She was surprised by her fans that sent her customized cupcakes which had different avatars of her from Dabangg to Lootera.  She even posted a picture on Instagram saying, "they're so nice how to eat them?"
Sonakshi was very touched  when she saw the cupcakes and wanted to thank the two sisters for their sweet gesture, Sonakshi tried calling them but couldn't get through, finally when they found out Sonakshi is trying to reach them they were over the moon.
Juveira and Zainab are bakers and own Pastelitos based in Mumbai, they are big fans of Sonakshi and recently had sent her a box of cupcakes with her pictures on it, they had even included Akira's first day picture which Sonakshi had posted on Instagram, Juveira had been trying very hard to reach out to Sonakshi and finally got lucky and how.
While chatting with them in their telecon Sonakshi ​invited them for the Mijwan Show, coincidentally it happened to be one of the sisters Juveira's birthday one day after the show, when Sonakshi found out she decided to call for cake and celebrate her birthday. It was a very sweet moment Sonakshi met them backstage and took them upstairs to the room to bring in her birthday.