Sonakshi Sinha is on the run with Arjun Kapoor! No, not in real life but in the filmi world of Tevar! Directed by Amit Sharma, Tevar, which also stars Manoj Bajpayee as the villain, is an action romance that hits theaters on Friday. Tevar sees Sonakshi's character Radhika as an ordinary girl who finds herself in extraordinary situations when she must run away. While escaping, Radhika figures that there is something special about Pintu and that he might just be the one.
First the trailer!

http://youtu.be/B_1_EYj74i8
Check out what the actress had to say about her character, and how it was working with Arjun Kapoor, Manoj Bajpayee and director Amit Sharma. Plus she gives us a cool inside look into the filming of Tevar, including what it was like to film 'Radha Nachegi' and even what she said when they told her she was going to have to jump off a building, in this exclusive interview for BollySpice!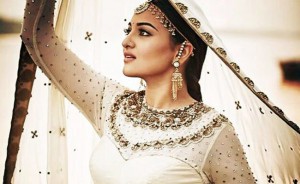 Why did you choose this film and this role?
This film actually is a remake of a Telegu film called Okkadu. When it was offered to me they gave me the DVD and when I saw it I quite liked the entire concept. I like the heart of the film. It had a good story. It had a good scope for me to perform as well. So you know I really didn't have to think much. I just went ahead and said yes. I've always chosen my films very instinctively. So I felt that this would be something good to be a part of.
What can you tell us about your character?
She's a girl from this city called Mathura in Northern India. She is a very, very normal girl and a very relatable character. She goes to college, she's your girl next door, she loves to dance and stuff like that. She kind of finds herself in the middle of a situation where the gangster of that town falls in love with her and she is trying to get away from him. While on the run she happens to meet this boy called Pintu, who is again your boy next door. He's just a good guy who wants to do the right thing by helping her. It starts off by him just trying to help her, but while they are on the run away from this gangster, that is when they fall in love. So it's not your typical boy and girl in love running away to get married or something (smiles). When they start running to get away from this situation… along the way that's when they fall in love.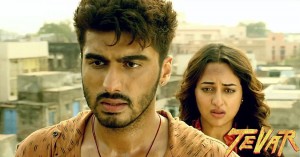 Tell us about working with Arjun Kapoor.
He's a really good actor. I think he's done really well in the films that he's done so far. He's always played very varied characters. I've actually known him since we were kids because we went to the same school but he was my senior. So I've known him for so many years now. I was really pleasantly surprised when we started working together because he is very disciplined as an actor. He's very thoroughly professional. He's good at what he does. He is actually not a selfish actor; he is very cooperative on set, so it was actually really nice to work with him. He's a wonderful costar to have.
It must have been interesting for both of you because you start off as innocent characters but then you had to change: he had to become a much tougher character and you had to become stronger. And to go through that track together…
Yes. It is a very good emotional transition throughout the film. Our director is wonderful. He really knows how to tap into real emotions within people. It is an emotional journey after all about these two people who are very ordinary and they find themselves in that on the run situation and how they kind of deal with it together and end up falling in love. So yes, it does have that emotional touch to it.
Then of course there is the fabulous Manoj Bajpayee, who always gets so lost into his characters…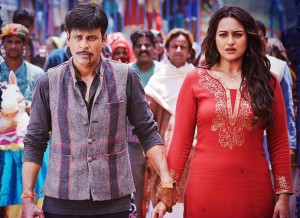 He is an outstanding actor. I think sharing the frame with him was such an honor. He's known to do such wonderful characters and really get lost in them like you said. He's a very effortless actor. Just to watch him do his thing in front of the camera is such a learning experience in itself. So yeah, it's been an absolute pleasure working with him.
So you mentioned that Amit Sharma, the director, was wonderful to work with…
He is outstanding. He is such a perfectionist; he is so thorough with what he does. He actually made about 600 ad films before this film. So he is one of the most celebrated ad filmmakers in our country today. You know there was this recent Google reunion ad which he made. You should Google it – 'Google Reunion ad' and it is about these two young kids who go away from each other when India-Pakistan separated and how they come together after years when they are really old. It's such an emotional ad. (Must see. Made me tear up. -ed) So, I was really looking forward to working with him because I felt like if a person can tell such a good story in a span on 2.5-3 minutes and make people emotional about it – it went viral and people were like in tears after watching that ad. So if you can touch a cord in such a short span of time, I really wanted to know what he could do with an entire feature film. He's really lived up to all the expectations. He is a fantastic director. He is a very challenging director I would say, he has really put us through a lot to make this film in terms of the kind of locations he chose, the kind of emotional scenes that we had to do, the kind of action that is involved in the film. He's very, very challenging but you know what, it is worth it. He is outstanding.
I believe you shot on live locations throughout the country. How was that experience?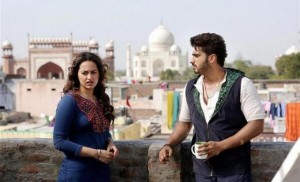 Yeah, we did. We did shoot at live locations. There were some places where people rarely shoot because they are so crowded. When we were shooting, the crowd used to gather but luckily they were cooperative and they let us do our thing. It went off well. But yeah they were quite difficult places to shoot I would say.
So you do stunts and action scenes for the film. What was that like and were you nervous?
I think I am wired a different way. (Laughs) When he told me that I had to do these stunts, like for instance if you've seen the trailer he is throwing me off a building, I actually got really excited. I was like 'Oh yay! I want to go fall off now.' (Laughs) The action master was also quite shocked because he said that actresses usually hesitate before they do this kind of stuff and I am like jumping all over the place, 'Oh I wanna do this now. Let's throw me off a building!' (Laughs) So he was quite shocked. It was a lot of fun though because honestly I like watching action movies and I've been a part of so many but I've not gotten to do a lot of cool stuff that the actors do. But in this because they are both on the run together so I was indirectly involved in most of the action that takes place throughout the film. So it was a lot of fun. I really, really enjoyed myself.
What are your thoughts on the music of the film?
The soundtrack is so complete that I actually like every song. But my favourites would have to be 'Let's Celebrate' and 'Superman'.
I read you sang a line in 'Let's Celebrate', tell us about that…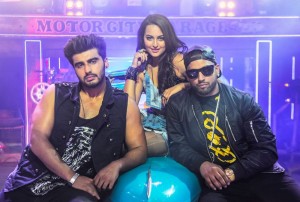 That was a fun experience. I really enjoy singing, but I don't think I am equipped to do it professionally because I am not trained. But I really enjoy it. I am a very good bathroom singer. (Laughs) When Imran [Khan] came down to shoot for the music video, I just happened to ask him in general conversation that who are you looking at to sing this part and he just very flatly replied, saying 'you'. I was like 'What?!' so he said, 'I want this song to be really special. This is my first song in the Hindi film industry and I really want it to be special. So I want you to sing it. I don't want any singer.' So I said, 'Okay, I'll do it but I can't sing.' To which he said that anybody can sing and I would make you sing. So in those 4 hours that we recorded those lines, he trained me, we sang it, we recorded it and all of that. It was a lot of fun actually. He's opened a can of worms though. I want to keep doing it but I doubt anyone will let me. (Laughs)
Shooting for that song video looked like it was a lot of fun…
Yeah. It was. It really was. We were going a little crazy! There was a particular shot where the camera was suspended from like a bungee cord and we could do whatever we wanted to. So we were swinging the camera around and we did the entire song in one shot. But, of course, the main music video that is out now has taken cuts from that because they couldn't keep the entire thing. It was quite a lot of fun.
Tell us about filming the gorgeous dance number 'Radha Nachegi'.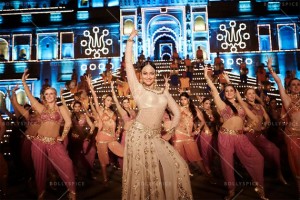 That song is actually my biggest song so far, in terms of scale, in terms of the number of dancers, the number of junior artists, the kind of lighting, the kind of set and everything. It was a live location. It was a fort that was lit up. In terms of that, it was the biggest song that I have ever done. It was so wonderful shooting the song because of the way it was choreographed. Because of the way it looked. It was really amazing. It was really a great experience for me.
What is your favourite thing about the film overall?
My favourite thing about the film is that it has so much soul, you know. It is not just your average masala potboiler. It strikes the right emotional cord, it's got romance, it's got action, it's got a little something for everybody. And just the way that the film has been shot, the look of the film is rustic yet cool. I guess that has to do with the lead pair being from a younger generation as well. It's kind of mass-y cool. I like that about the film.
Mr. Boney Kapoor and Mr. Sanjay Kapoor are producing Tevar, what was it like to work with them?
You know, they've actually seen me grow up; these are the people who've seen me grow up, so even for me, it was like a home production. I was working with family. They are truly two of the nicest people I've known and definitely two of the nicest producers that I've worked with. I had no trouble whatsoever while shooting the film. They were always taking good care of me, Arjun, everyone on set. It was literally been run like a house. It was quite nice to be a part of it.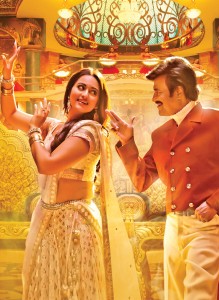 This is a remake of a South film, and you have just come off your first experience working in the South with Rajinikanth on Lingaa, how would you say the two differ?
They do differ because I guess their ways of working are very different from each other. In the South they are a bit more punctual I would say, a bit more on time, much quicker than the way that we are used to working over here. That is one major difference that I've noticed.
While we are on the subject, I have to ask what was it like working with Rajinikanth, I mean he is such a superstar…
Yeah! He is outstanding. He is an amazing person. Being the kind of star that he is I've never met somebody more humble, more simple than him. He's a wonderful person and I am really glad I got to work with him because there is so much to learn from him, not only for the acting bit of it but also as a human being the way he is.
Looking back over your career so far what would you say?
I am truly thankful for the way it has turned out. I always believe in one thing that whatever happens, happens for the best. So far so good. You know I treat every film as if it's my first film, so everyday is a new, exciting journey for me. So, so far it's been wonderful. I couldn't be more grateful actually.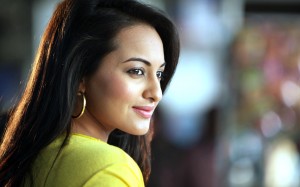 What will we see you in next?
After Tevar, I actually start my next film, which is a yet untitled film by A.R. Murugadoss, who made Holiday and Ghajini. He will be making a woman-centric film, which has got a lot of action and this time I will be doing all the action and not the hero! I am really looking forward to that.
Make sure you catch Sonakshi in Tevar at a theater near you on January 9th!