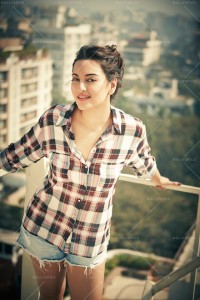 Sonakshi Sinha recently gave the Life Time Achievement award to her father Shatrugan Sinha held in the beautiful locales of Tampa Bay!
Not many are aware that the heart wrenching speech which Sonakshi gave about her father was actually written by her at the last minute. Sonakshi finished her performance and immediately went back stage and took out a piece of paper and starting writing her thoughts, informs a source close to the pretty actress.
The words came directly from her heart, and shows the immense love and respect which she has for the first man in her life!! Many people became teary eyed while listening to her as she handed over the award to her father and we are sure Shotgun Senior must be mighty proud of his young daughter.
Well! here are some of the lines from the speech and as they say a daughter is always the princess for her dad!!
"Shatrughan Sinha… to the world he is a legendary actor, powerful orator, the Shotgun thats ready to unleash a 'khamosh' whenever he feels like, but to me, he is my Father and my hero. Hes the man who raised me like he raised his sons, who disciplined me with love, showered me with affection inspite of his work keeping him away most of the time. He is a strong, patient, caring, intelligent, understanding, genuine and honest person who has instilled values in me that i will stand by for life. He is the man that taught me never to back down and always give it my best and no matter what – to always hold my head up high. He is the man that has made me the person i am today and he's given me enough to be a better person tomorrow. He is my father… My hero."