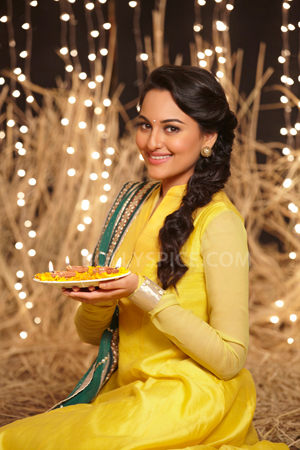 The gorgeous Sonakshi Sinha is back and this time she is opposite the great Ajay Devgn in the masala flick Son of Sardaar. Directed by Ashwini Dhir, the film also stars Sanjay Dutt and Juhi Chawla. Son of Sardaar is a romantic comedy which takes you straight into the heartland of colourful Punjab. It is the story of Jassi (Ajay Devgn), a peace loving, happy-go-lucky Sardar, who lives in London while trying to make a living. While coming to Punjab from London, Jassi meets Meet (Sonakshi Sinha) and love happens! Of course, many twists, turns, action, drama and comedy also happen when he arrives. Will Meet and Jassi's love story see a happy ending? You can find out tomorrow because SOS hits theaters on November 13th! We got the chance to have a quick chat with Sonakshi about the film. Read on to see what she told us about what made her laugh, about riding that bike, of course working with Ajay and all things Son of Sardaar.
So what made you say yes to the role in this film?
Just the fact that when Ashwin sir, our director, came to me with the script while he was reading it I was really laughing my heart out and I felt that if a film like that can get a reaction like that out of me on paper I'm sure it will be able to do a lot more when it's finally made and after it's on screen. I guess I went on instinct. And I really love the character that I'm playing too so I just went ahead and said yes.
Tell us about your character.
My character is of a young, modern Punjabi girl who is well educated, she's loud, she's funny, she's talkative, and she is brought up with really nice strict Punjabi values. That's pretty much my character in a nutshell. And along with all this I got to do a lot of new things in the film, for instance, riding a bike, doing action for the first time, I've done 2 action films in the past but never got a chance to do any action so in this film I've done that as well. She's a very lively character.
Tell us about working with Ajay Devgn.
Fantastic. He's a very, very professional actor, a very intense actor. When he is working he is very serious on the set. Work is work. When cameras aren't rolling and the entire team is sitting together he's a very fun person as well. So it was nice to see both sides to him. It was quite cool actually and it was good fun.
Now he is known as a prankster, did he get you?
Yes he did! He did pull quite a big one on me. He hid chilli paste in gajar ka halwa, which is an Indian sweet delicacy. I took a bite and my mouth was on fire because it was so spicy. That's one thing I'm going to remember for the rest of my life and make sure that I look at what I'm eating (laughs).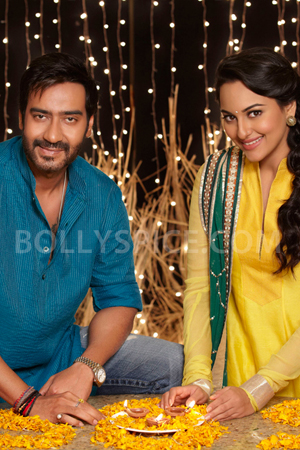 Did you also have scenes with Sanjay Dutt and Juhi Chawla?
Yes I did. Both are wonderful actors to work with. Sanjay is actually is more like an elder brother, he's seen me when I was really little so it was quite emotional working with him and sharing screen space with him. Juhi-ji is such a wonderful person she's got such a nice, wonderful positive aura around her and she is always smiling. It's really nice to be around her and work with her.
The song sequences looked like they were fun to film, tell us about that.
It was definitely fun because Ajay is really not known as a dancing actor but in this film the songs are so catchy, they are so foot taping numbers that he automatically enjoyed himself as well. He's gone all out. He's given his best. We know that he doesn't like to dance (laughs) but he's gone ahead and done that which is commendable. We really had fun!
What do you think the director brought out in you as an actress?
The director actually was he made it very easy for me because if you meet my director he's a very typical Punjabi man, the way he speaks, the way he acts, the way he behaves, his everything is so typical Punjabi that if I every got stuck I'd just have to observe him and see what he's doing and how he's doing it and replicate that. Even in terms of the language, I don't speak Punjabi. I understand it, but I got the opportunity to speak it, lines here and there, he's really a big help for getting into character.
So as you said you got to do action scenes for the first time. Were you scared?
Yeah, it was a bit scary at first but I've always been a very sporty person. In school I used to play a lot of sports, so I enjoy any kind of physical activity. I made sure I had no body double for this. It was something I wanted to do by myself. It seemed something very challenging so I really wanted to take it up. I think I did it well and the result is on screen to see. It was definitely a lot of fun.
What are you happiest about your career so far?
I think that it is that things have really fallen into place for me. People have appreciated a certain way that I looked, certain way that I act, and that's most important to me. Not only that, the fact that I've enjoyed working on each and every one of my films. I've always taken something back from it. I've learnt something from it. That's what is really important.
So what have you learned from this film?
From this film, I learned how to ride a bike. (Laughs)
What else do you have coming up?
I have Dabangg 2 at the end of this year in December and after that there is Lootera and there's Once Upon a Time in Mumbaai the second part.
What do you think audiences are going to love about Son of Sardaar?
This is a film that everyone would like to see it. Just that it's going to cater to every age group. Everyone is going to appreciate it because it has something for everyone right from kids to adults to seniors. So I think everyone is going to take back home a lot of entertainment, a lot of laughs. It is a complete commercial masala film Bollywood film which has action, romance, drama everything rolled into one. You know Indians like it that way. I think this film has all of that to offer and much more you know. It's a very, very entertaining film and that's all that matters. It definitely will be a good Diwali for them.